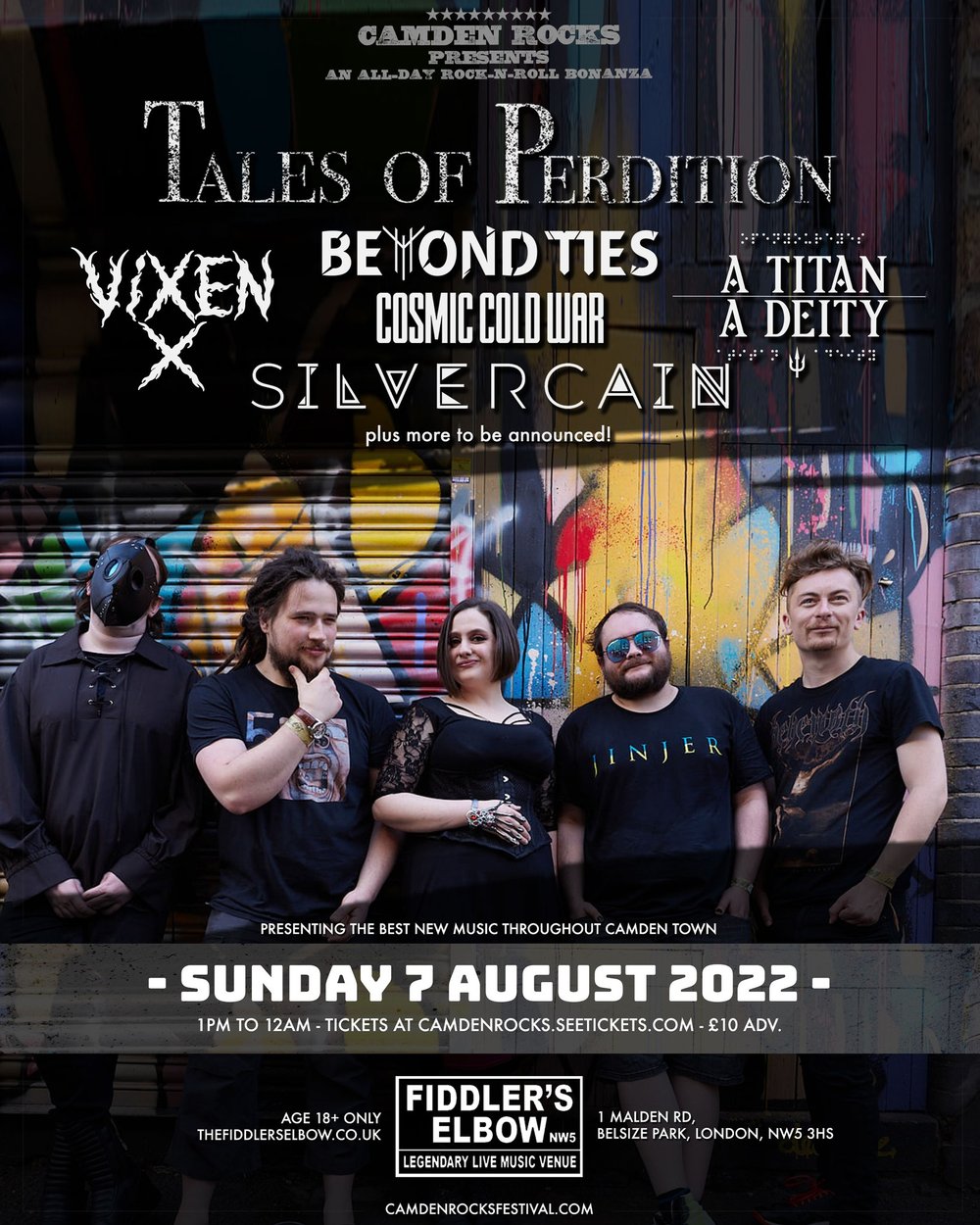 Camden Rocks alt-metal onslaught featuring Tales Of Perdition, Beyond Ties, Cosmic Cold War, A Titan A Deity, Vixen X and Silvercain more, live at Fiddler's Elbow
tickets here
1pm to 12am // £10 Adv. //
••••••••••••••••••••••••••••••••••
Grab your mates, grab your tickets, and get down for some of the best new alternative, indie, rock & metal music about! Brought you by Camden Rocks Festival
••••••••••••••••••••••••••••••••••
About:
Tales Of Perdition https://youtu.be/fibhNmADFgI
www.facebook.com/talesofperdition
Tales of Perdition are a metal band from London combining all of the best elements of symphonic, metalcore and classic metal into a whole new package. Headlining shows across the capital, the band put on a huge live show with soaring vocals, epic guitar harmonies and a good old fashioned dose of heavy metal!
Beyond Ties https://youtu.be/SVIcmaaL8ng
www.facebook.com/beyondtiesband
Beyond Ties are a 4 piece metal band from London, UK. Formed in 2019, the band is influenced by artists such as Gojira, Killswitch Engage, Bleed From Within, Bullet For My Valentine and Alter Bridge. Their style is dynamically mixed with aggression and melody.
Cosmic Cold War https://youtu.be/Kl3ZekqbkVw
www.facebook.com/cosmiccoldwar
COSMIC COLD WAR take you to the most remote reaches of the cosmos and the darkest corners of your mind. Matching soaring melodies with crushing riffs, their international line-up delivers a unique blend of prog, groove and thrash metal inspired by literary and cinematic horror.
A Titan, A Deity https://youtu.be/ugR4Z0OvDoE
www.facebook.com/ATitanADeity
Forming in 2016, A Titan, A Deity are a progressive metalcore band comprised of like minded musicians from previous established bands. A Titan, A Deity take influences from a range of bands in the scene such as Northlane, Tesseract and Architects.
Vixen X https://youtu.be/L1JrtcxOEJw
www.facebook.com/vixnxband
Vixen X are a 4 piece alternative rock band based in London, founded by Tatiana Marcov(vocals) and Luke Gould(bass), later joined by Matteo Lusetti(drums). After a bumpy ride in the last two years, Vixen X have released their debut EP but the most exciting is still to come. As they are joined by James O'Connor on guitar, the missing piece of the puzzle is found and a thrilling future awaits. Vixen X are set to release their second EP in 2022 where they will take their sound to the next level.
Silvercain - instagram.com/SilvercainBand
3 Piece grunge influenced heavy rock/alt metal band based in London. Great for a deaf crowd
Source: The Fiddler's Elbow website