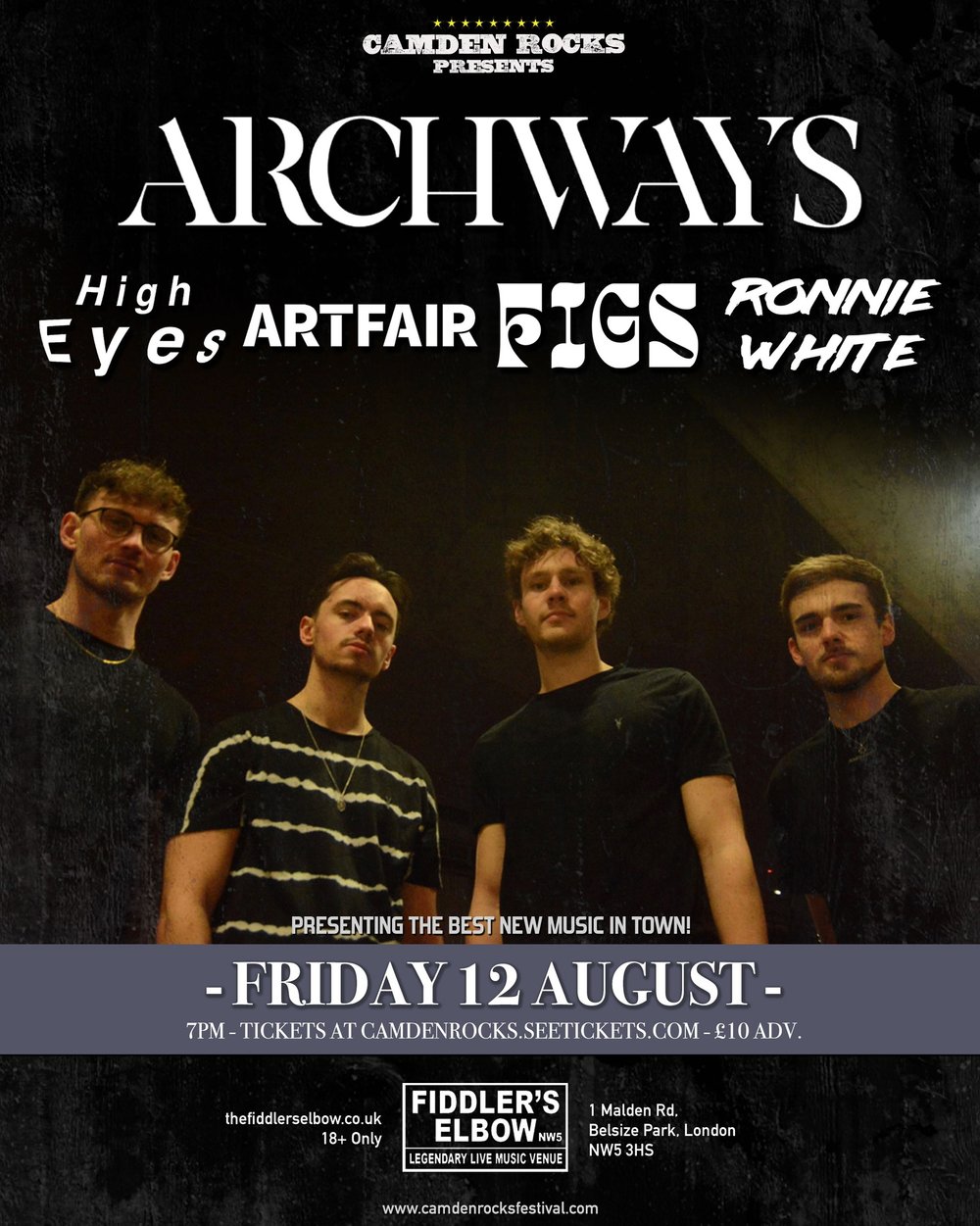 Camden Rocks proudly presents alt-rock Archways plus High Eyes, Artfair, FIGS and Ronnie White live at Fiddler's Elbow.
Tickets http://camdenrocks.seetickets.com
7pm to 1am // £10 Adv. //
After Party at The Underworld's Blackout Club from 11pm to 3am.
Grab your mates, grab your tickets, and get down for some of the best new alternative, indie, rock & metal music about! Brought you by Camden Rocks Festival Live music is back in action
••••••••••••••••••••••••••••••••••
About:
Archways https://spoti.fi/3wF4wJA
www.facebook.com/archwaysmusic
The catchy melodies and thought provoking lyrics of Archways will be taking Fiddlers Elbow BY STORM again on August 12th. Go check out their debut single Phoenix Rising now streaming on Spotify, ITunes and other major streaming services now!
High Eyes https://spoti.fi/3MCLjPL
www.facebook.com/higheyesmusic
'Baby making music, somewhere between Oasis and The Streets with a bit of funk trying to push through' - Graham Norton
Artfair https://youtu.be/QvVOdXvtJmA
www.facebook.com/Artfairband
Emerging London 5-piece Artfair erupt with a joyous sound fizzing with youthful energy. Successfully navigating the cornerstones of pop and indie rock, driving guitars and syncopated live piano hooks are intertwined with expressive vocals, which soar over the band's locomotive rhythm section.
FIGS https://youtu.be/H0VaM_PpKLk
FIGS are a rock band formed in London by Chris Makh (Guitar & Vocals), Edward Kaane (Guitar & Vocals), Alex Saleh (Bass), and Alex Hoff (Drums). Chris and Ed are originally from Venezuela. In 2015, they started playing as a two-man band, or sometimes with session musicians as a trio, touring small venues and opening for artists like Adam Wakeman, Rawayana, and The Second Sons. In 2020 Chris and Ed met Hoff and Saleh, who were long- time friends and joined the band. FIGS have already played in various venues in London and Wales, and plan to release their debut full length album later this year.
Ronnie White https://youtu.be/1BSh1-hiqnA
www.facebook.com/ronniewhiteofficial
London-based alternative singer-songwriter and electronic producer Ronnie White has been playing the London scene since the early 2010s. In 2015 she released her solo debut single, Temple, followed a few months later by Demons. From 2017 to 2019 she was the front woman of the band Lunar Echoes, playing major shows such as Camden Rocks and seeing their releases heavily played on BBC Introducing and various national and international radios. In 2020 the artist returned to the electronic music scene and began working on new music. Her relaunch single, Empty Castle was released early last year, shortly followed by "Lover". This new chapter is defined by a drastic change in mood, musical elements, as well as visuals, leaving the darker days behind for a brighter retro vibe, filled with loud 80s electronic sounds and drum kits and a brand new neon attitude
Source: The Fiddler's Elbow website