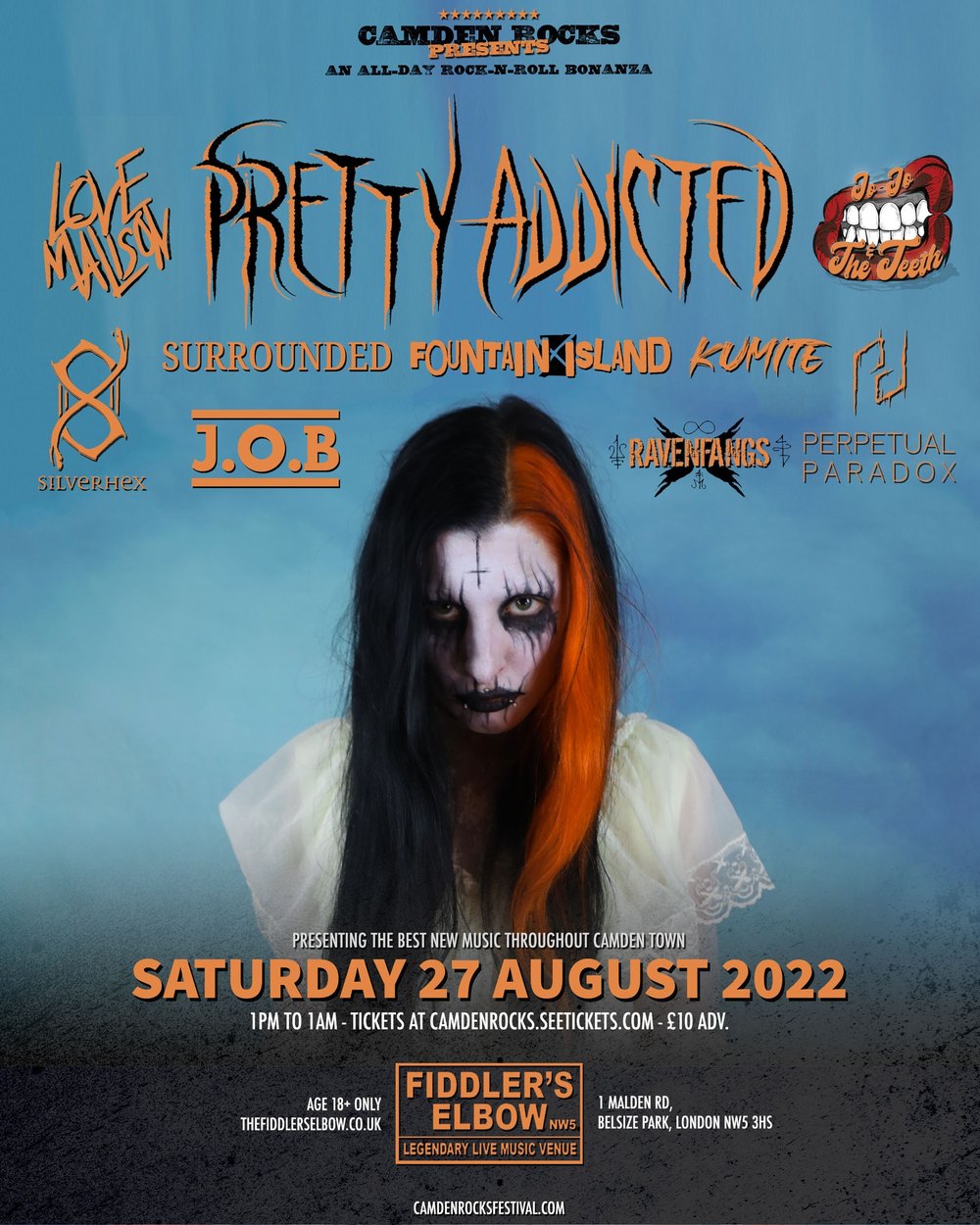 Camden Rocks an all-day rock-n-roll bonanza featuring Pretty Addicted, Love Malison, Jo Jo & The Teeth, Silverhex, Perpetual Paradox, Surrounded, Fountain Island, J.O.B., Ravenfangs, Kumite and more, live at Fiddler's Elbow
Tickets http://camdenrocks.seetickets.com
1pm to 12am // £10 Adv. //
••••••••••••••••••••••••••••••••••
After Party at The Underworld's Camden Rocks Club from 11pm to 3am, tickets: https://bit.ly/3ALMfxX
Grab your mates, grab your tickets, and get down for some of the best new alternative, indie, rock & metal music about! Brought you by Camden Rocks Festival
••••••••••••••••••••••••••••••••••
About:
Pretty Addicted https://youtu.be/N2ObCy4S-_E
www.facebook.com/prettyaddicted11
Loopy Dance-Punk from the mind of Clown Spice Vicious Precious Working through all my childhood trauma by screamin' my way through the DARK RAVE I've created
Love Malison https://youtu.be/hWwxcZ6PhPg
www.facebook.com/lovemalisonband
Born of a desire to offset infectious pop hooks & lyrics with a modern rock intensity, Love Malison want to move you both physically & emotionally. With a London based lineup established in the throes of the pandemic, the mood of the material will lunge from lethargy to frenzy, & everywhere between. Currently preparing to release upcoming third single 'Pseudo', the band can't wait to bring their brand of feisty Alt Rock to The Black Heart this May.
Jo Jo & The Teeth https://youtu.be/_JwC2Iv7KcE
www.facebook.com/jojoandtheteeth
A glamorous Art Rock rebirth forged by the collision of a Canadian powerduo and a fierce Isle of Wight Trio. This transatlantic marriage à-la Fleetwood Mac, blend and bend inspirations from every corner of music. A dark & moody forward driving sound, intimately rooted in good old fashioned guitar rock and roll. Jo-Jo & The Teeth conjure an arena sound and spectacle, woven together with velvety bluesy depths and moments of breezy pop sentiments.
Silverhex https://youtu.be/TNC3QGlwAh4
www.facebook.com/silverhexofficial
Formed in 2019, Silverhex set out to create music the way they believe it should be; Evocative, powerful and ultimately fun. Combining elements of metalcore and nu metal with a melodic punk edged sound and massive stadium rock vocals, Silverhex took inspiration from bands like Killswitch Engage, In This Moment, Pantera and In Flames to forge a sound of pure energy and atmosphere with powerful cathartic lyrics
Perpetual Paradox https://youtu.be/vtIaufREjzU
www.facebook.com/perpetualparadox
We started the project early 2020 and the final lineup was made in summer 2021. All members live in London (5 of us), where the band is based. With a few rehearsals and a lot of material written over lockdown, we recorded our first album just before fall. We consider ourselves a modern metalcore band, with influences flying from every corner of the metal genre! With a touch of thrash, groove metal and classic metalcore, not leaving behind some melting breakdowns and clean sections too.
Surrounded Coming soon
Fountain Island https://youtu.be/1SJ0MyaKliQ
www.facebook.com/fountainislanduk
Fountain Island are a pop punk band hailing from the South East of the UK striving to be the soundtrack for the underdogs, misfits and rebels among us who are told to stay in their lane and not pursue their dreams. Daydreaming to one day be the singer of a band, Alex created Fountain Island during the long evenings of lockdown. Inspired by all of his childhood 00's emo rock influences like All American Rejects, My Chemical Romance and Fall Out Boy. Alex, and Ella (Drums) - a duo of ex-emo kids intertwining their love of punk with modern pop and trap beats to create their own infectious blend of new school pop punk.
J.O.B. https://youtu.be/R0huRMmZ2Dk
www.facebook.com/theJOBband
J.O.B are an Alternative Rock Trio from East London, forming in 2018 from school. They're known to pack a punch with their heavy and anthemic style as heard in their hugely energetic live shows, captured in their debut album "Free Your Mind" released Sept 2019 to the acclaim of national radio stations Union Jack and BBC introducing. The Water Rats, The Monarch, The Raven, and The Fiddler are just some of the venues the band have played throughout London and Essex, which also include slots for Camden Rocks Presents.
Ravenfangs https://youtu.be/eeuvb8zOFus
www.facebook.com/ravenfangsband
South-West London Rockers, RAVENFANGS are not simply a band, but a communion of ideas and intents. Marco, Joe, Will and Simon make RAVENFANGS, a particularly unique band known for their raw and high-powered live shows.
Kumite https://youtu.be/Vn_rhHU7WL4
High energy punk rock band with catchy melodies with a grunge vibe.
Source: The Fiddler's Elbow website