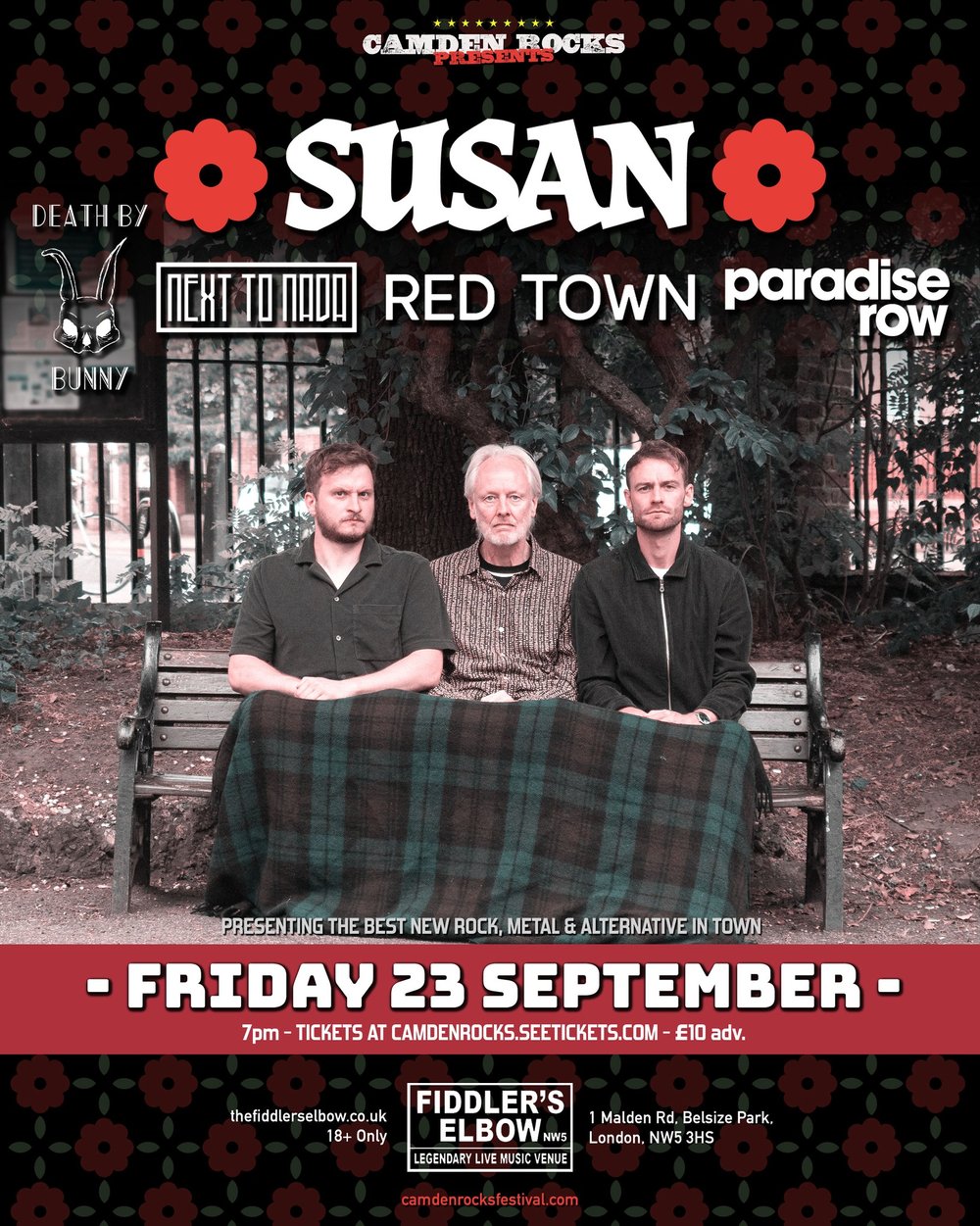 Camden Rocks proudly presents high-energy alt-rock Susan plus Death By Bunny, Next To Nada, Red Town and Paradise Row live at Fiddler's Elbow.
Tickets http://camdenrocks.seetickets.com
7pm to 1am // £10 Adv. //
After Party at The Underworld's Blackout Club from 11pm to 3am: https://bit.ly/3K0OGzn
Grab your mates, grab your tickets, and get down for some of the best new alternative, indie, rock & metal music about! Brought you by Camden Rocks Festival Live music is back in action
••••••••••••••••••••••••••••••••••
About:
Susan https://spoti.fi/3zLCvBJ
facebook.com/susantheband
Formed in late 2021 straight out of Lockdown, SUSAN is the amalgamation of two friends and one baby-boomer uncle on the drums. SUSAN layers high-energy alt-rock improv on top of a rhythm section that was there in the front row when Bonham was alive. This trio writes music to spin roots rock into a louder more palpable form for a post-pandemic world.
Death By Bunny https://youtu.be/s1ro5NKH_i8
facebook.com/deathbybunnyband
Death by Bunny are an alternative rock band known for variety in styles, diversity between songs, and a large spectrum of influences, which reflect diverse rhythms and captivating riffs. Located in London for the last two years, they have recorded in iconic studios including Abbey Road and Studio 13.
Next To Nada https://spoti.fi/3p9HYgL
facebook.com/nexttonada
NEXT TO NADA are a four piece grunge band from London. We love blasting out loud, heavy riffs with some psychedelic layers thrown into the mix. But, between the four of us, we're big fans of punk, metal and indie. So, if you're a fan of dirty riffs, pounding drums and fiery but playful lyrics, we're the band for you! All of our self-released singles can be found on our BandCamp and our debut EP, 'Spitballing' is available all streaming services (as well as for purchase on our BandCamp) right now!
Red Town https://spoti.fi/3PecJeY
facebook.com/RedTownMusic
Red Town is a 7 piece band from London playing rocknroll/indie with more than a hint of soul, funk, psychedelia & occasionally jazz.
Paradise Row https://youtu.be/5H8G90GOMTs
instagram.com/ParadiseRowBand
Paradise Row, anthemic East London Britpop, always the best band on the bill. Even when we open.
Source: The Fiddler's Elbow website