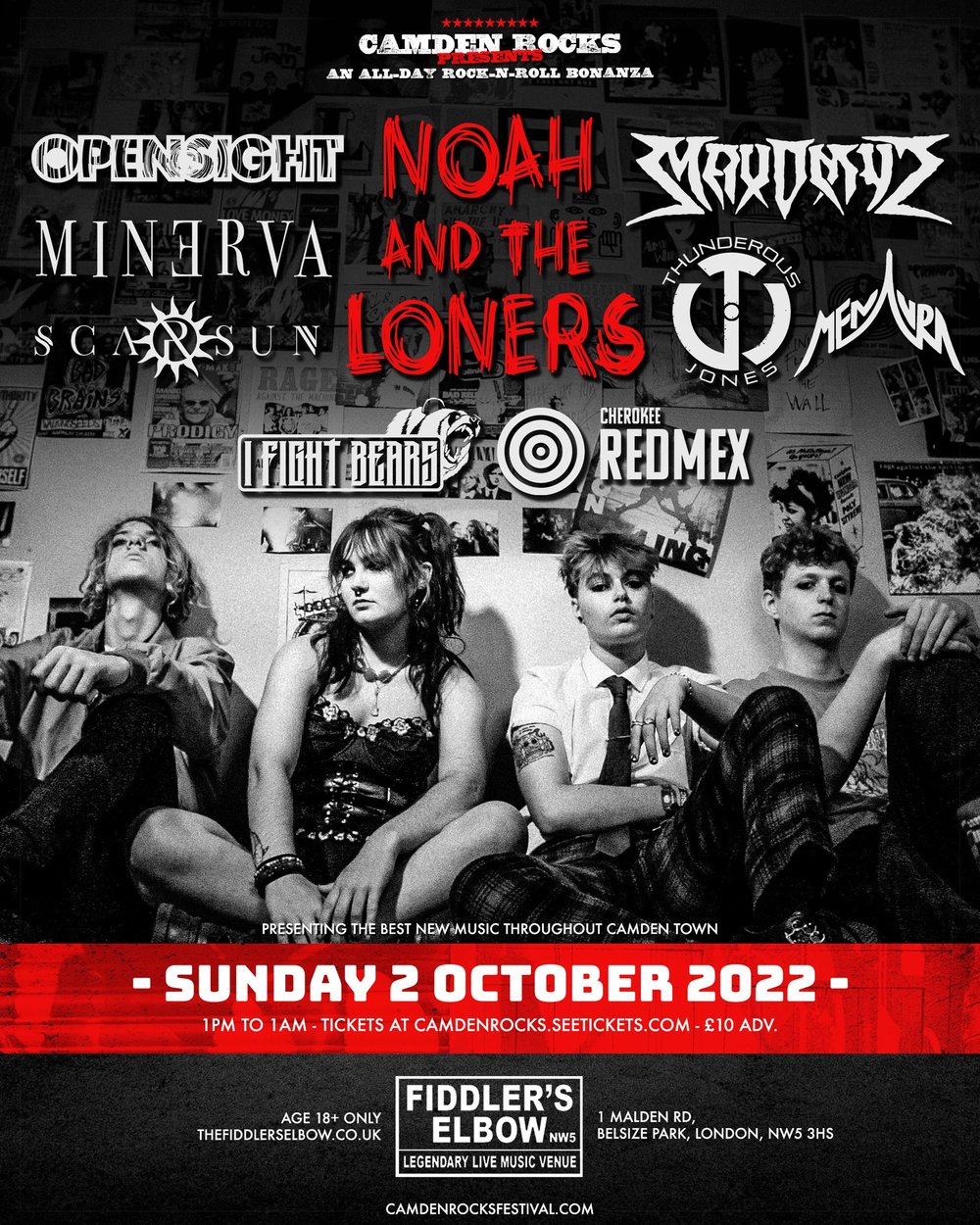 Camden Rocks rock-n-roll all-dayer featuring Noah And The Loners, Opensight, Minerva, Maxdmyz, Thunderous Jones, Scarsun, Menaura, I Fight Bears and Cherokee Redmex live at Fiddler's Elbow.
Tickets camdenrocks.seetickets.com
1pm to 1am // £10 Adv. //
••••••••••••••••••••••••••••••••••
Grab your mates, grab your tickets, and get down for some of the best new alternative, indie, rock & metal music about! Brought you by Camden Rocks Festival
••••••••••••••••••••••••••••••••••
About:
Noah And The Loners https://youtu.be/aSJ5vaYMOiI
facebook.com/noahandtheloners
Punk teens Noah and the Loners have something to say and they're saying it loud. Their powerful songs capture the zeitgeist of Gen Z – from personal tracks on teenage love and Noah's experience of toxic masculinity as a trans man, to political blasts at racism, corruption and the climate crisis. The band's sound is influenced by OG legends X-Ray Spex, The Clash and Buzzcocks, along with the alternative stylings of Idles, Paramore and Frank Carter & the Rattlesnakes. Noah and the Loners are the youngest artists ever to be signed to Marshall Records.
Opensight https://youtu.be/dOBJswHrbE8
facebook.com/opensightmusic
Opensight have distinguished themselves by crafting thematic songs that are infused with a sense of adventure and drama, yet charged with intense energy and memorable melodies. Drawing from different palettes, the band is notorious for dressing up their songs with suspense, spy themes, hard-boiled action sequences and enigmatic horror passages among other elements, revelling in vintage Genre Film conventions as a main source of inspiration.
Minerva https://youtu.be/viChNk7tDDo
facebook.com/MIN3RVA.BAND
MINƎRVA is a rock band based in London. Mixing their strong lyrical and melodical style with their gritty rock instrumentation, MINƎRVA creates a thoughtful yet energetic sound.
Maxdmyz https://youtu.be/TgNj8PipHMg
facebook.com/maxdmyz
We're a five-piece alt metal band from London Our sound has always been dark, passionate and heavy, and our latest album, Anatomy of Power, is no exception. It's hard, riffy, soulful, groovy, catchy... and will appeal to fans of Anthrax, Dream Theater and well beyond. We think this is the best thing we've ever done, but don't just take our word for it.
Thunderous Jones https://youtu.be/n4l6DkoN2Ns
facebook.com/thunderousjones
Hailing from the Midlands, Thunderous Jones are steadily climbing the ladder in the metal industry. From being championed by various Kerrang! Radio DJ's to performing on the Sophie Stage at last years Bloodstock Festival, they have started to make an early name for themselves, despite being a relatively new band. With their debit album expected in November 2022, they have been tipped by many as "ones to watch"
Scarsun https://youtu.be/SH-UoOcdcvc
facebook.com/scarsunband
Formed by guitarist Matt Hall, SCARSUN are on a mission to create high energy, passionate music, without concerns for genre. Drawing inspiration from all forms of music and art, at times ranging from delicate to ferocious and always aiming to add something different to the musical landscape. Working with EARACHE Digital Distribution, 2022 Will see the release of the HIGANBANA trilogy of EP's, with live appearances booked, throughout the UK.
Menaura https://youtu.be/Unijx9Ln_nI
facebook.com/menauraofficial
With influences ranging from Radiohead to Deafheaven, Menaura strives to blend the atmospheric, ambient and experimental in a rock context to create an intense and beautiful escape for the listener. Formed in London in the early 2020, the band includes Douglas Runebjörk (guitar, vocals), Diana Opiela (vocals, keyboard), James Rampton (drums), Kristin Hille-Krumsvik (bass guitar) and Elio Prota (guitar). Menaura specializes in the use of wide soundscapes, reverb and the occasional blast beat; taking the audience on a journey through a Scandinavian vast forest landscape and all the way to London's piercing skyscrapers.
I Fight Bears https://youtu.be/mECgg2UeJto
facebook.com/ifightbearsband
Merging modern metalcore and rib-crushing, no-holds-barred heavy metal, I FIGHT BEARS lace brawny riffs and pile-driving rhythms with a two-pronged vocal attack that will flatten anyone within range. The Welsh metal crew started with a bang 5 years ago, unleashing their self-titled debut album in 2018, which promptly garnered glowing comparisons to Lamb Of God, Parkway Drive, and Killswitch Engage. Unsurprisingly, industry bible Metal Hammer were early champions, exclusively streaming the album and giving the band one of their first features. I FIGHT BEARS' profile rose further with the release of the unexpected, fully-endorsed cover of Spandau Ballet's classic 'Gold' which has now racked up over 200,000 plays on Spotify alone. The band's live chops have been honed over many miles on the road, including stints with Bleed From Within and The Word Alive.
Cherokee Redmex https://youtu.be/RI0bKI7yPIY
facebook.com/cherokeeredmex
Hippy, Punk, Grunge, Acid Rock Band. An odd combination I know, but this is how Cherokee Redmex describe themselves! Cherokee Redmex is a North London band that takes its influences from 1970s Americana and reinterprets it in a Garage Rock style. The band has received much airplay across the globe including BBC Radio London.
Source: The Fiddler's Elbow website