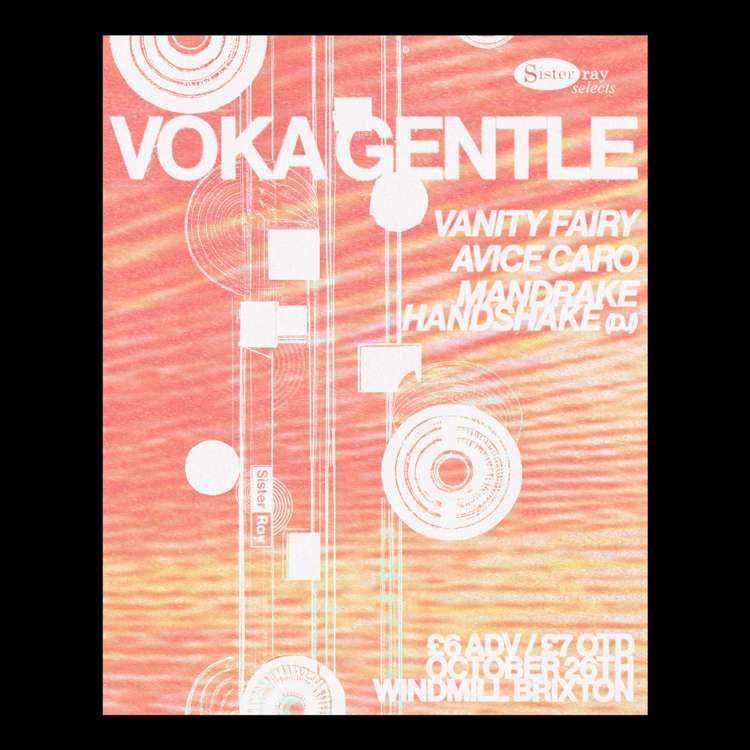 Legendary Soho record shop Sister Ray returns for another night to present more staff favourites
Consisting of Imogen Mason, Ellie Mason and William J. Stokes, Voka Gentle are a trio of songwriters, producers and multi-instrumentalists tearing up the rulebook with their unique blend of earthy psychedelia, motorik beats, collaged soundscapes and harmonised vocals.
Recent collaborators include the Flaming Lips' Wayne Coyne and cult folk chanteuse BELLS, who both appear on Voka Gentle's acclaimed second album WRITHING! ("one of the underground albums of the year" -Loud And Quiet), co-produced with Pigs, Pigs, Pigs, Pigs, Pigs, Pigs, Pigs guitarist Sam Grant.
Having supported Girl Ray, Let's Eat Grandma, Audiobooks, Katy J Pearson and Insecure Men, so far, 2022 has been a bit of a whirlwind for divine disco diva - and recent Moshi Moshi signing -Vanity Fairy. Her debut EP, Love From Above lives in a space of pulsating four-on-the-floor rhythms, probing Moroder synths and ascendant sugar-sweet strings. Fairy, with her shimmering vocal falsetto (which has been compared to everyone from Kate Bush to Grimes to Barry Gibb) spins a nostalgia-laden world that plays with kitsch-pop tropes and revels in the hedonistic indulgences of classic disco.
A failed actor, writer, administrator, waitress, seamstress, builder and decorator, Vanity Fairy now has her hopes pinned on international pop stardom.
A solo fairytale-folk multimedia project, inspired by literature, philosophies, myths, folk-tales, and dream sequences. With an undeniably poetic and medieval aesthetic, Avice Caro blends the modern with the archaic to create a mystical world that is situated within a timeless realm.
Plus
DJ: Mandrake Handshake : Representing psych-collective Mandrake Handshake, Elvis will be mostly playing Art-Pop and Psychedelia to bring vibrant and colour-rich vibes to the room. It might even get funky on occasion too. As a music journalist for several very cool magazines in his spare time, his fingers cannot help being on the pulse sometimes so forgive his hipster selections!
Source: Windmill Brixton website