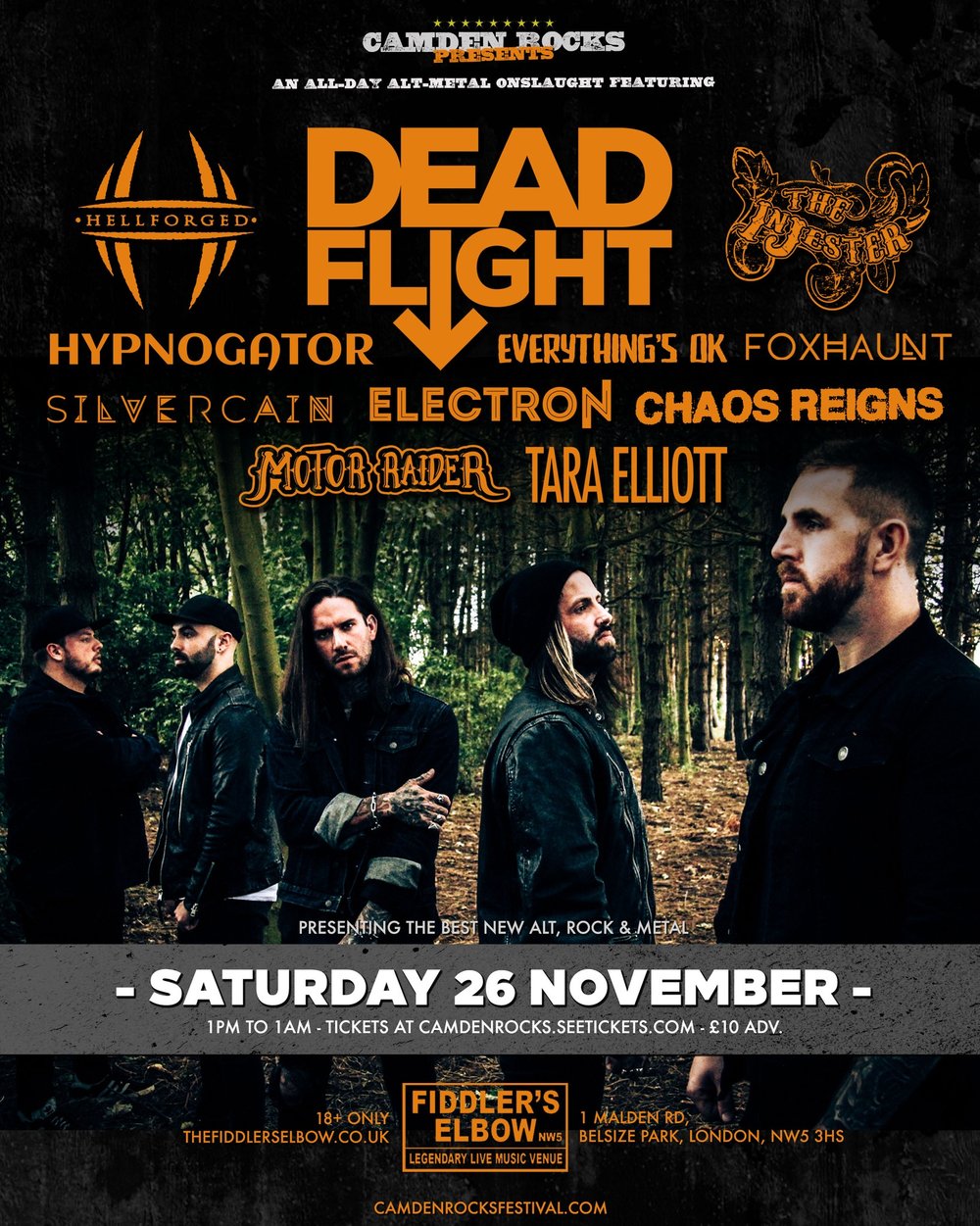 Camden Rocks all-day alt-metal onslaught featuring Deadflight, Hellforged, The Injester, Hypnogator, Beyond Ties, FoxHaunt, Electron, Chaos Reigns, Tara Elliott and Keystone live at Fiddler's Elbow.
Tickets camdenrocks.seetickets.com
1pm to 2am // £10 Adv. //
••••••••••••••••••••••••••••••••••
Grab your mates, grab your tickets, and get down for some of the best new alternative, indie, rock & metal music about! Brought you by Camden Rocks Festival
••••••••••••••••••••••••••••••••••
About:
Deadflight https://youtu.be/Ac3l6tMGZHQ
facebook.com/deadflightband
Originally born out of the 2021 UK lockdown, excited voice notes and some shaky home production skills soon became refined Hard Rock, setting itself aside with a genre blend from blues and pop to metal and doom. The UK 5 piece crowned their remote creativity with the independent release of their debut studio album "Arrival" in January 2022. With further music imminent, DeadFlight build on their sold-out debut shows with a return to the live circuit.
Hellforged https://youtu.be/sMgOZo-f7hY
facebook.com/hellforgeduk
Hailing from Essex, UK, four-piece heavy metal band Hellforged bring headbanging riffs, dirty loud distortion, and heavy, face-melting metal grooves forged straight from the fiery depths of hell!
The Injester https://youtu.be/edRMn_WFhc0
facebook.com/theinjester
Launching in 2019 the band's music is a metallic mix of horror, theatre and tales for all mankind. With decades of collective musical creation under their belts, The Injester are now stepping out of the shadows, masked and armed with explosive new material bringing their musical nightmare to life. The clowns are putting on their make-up – you have been warned…!!
Hypnogator https://spoti.fi/3xtVYqv
facebook.com/HypnogatorBand
South London post punk/prog rock band, here to take you on a trip through the cosmic swamp
Beyond Ties https://youtu.be/SVIcmaaL8ng
facebook.com/beyondtiesband
Beyond Ties are a 4 piece metal band from London, UK. Formed in 2019, the band is influenced by artists such as Gojira, Killswitch Engage, Bleed From Within, Bullet For My Valentine and Alter Bridge. Their style is dynamically mixed with aggression and melody.
FoxHaunt https://youtu.be/86TtW4zMGy4
facebook.com/foxhauntband
Based in York, FOXHAUNT have been creating their own brand of British Alternative Rock since 2018. Having already released their critically acclaimed EP Mindset they are paving their way to becoming a driving force in the alternative scene.
Electron - facebook.com/officialelectronband
Electron are new to Worldsound American Artiste. They are the new breed of a an old sound with a twist. Musically and technically amazing, they seriously stand up and can compete with the likes of Satriani, Sabbath and Alter Bridge. To say they are a powerhouse is an understatement. All former students of BIMM and originally hailing from Portugal, Electron have permanently settled in London to shake up the rock and heavy metal scene internationally.
Chaos Reigns https://youtu.be/Tx1097g8Ykw
facebook.com/ChaosReignsUKBand
Hardcore Punk, Hardcore Fun: Chaos Reigns are here to breathe frenetic energy into the UK hardcore scene and assault your senses.
Tara Elliott https://spoti.fi/3SBLzkN
facebook.com/Tara-Elliott-788441828189050
Declared by music industry media & fans as the bastard child of Janis Joplin and Iggy Pop & the Stooges. The words: Powerhouse vocals, do not serve Tara Elliott justice, nor proper introduction. Tara's songwriting & Led Zeppelin-esque voice sing her diary, telling the story of "No Parachute", being born a rebellious, rock and roll misfit in New Jersey as a rehab-failed teen, her dark struggles living with addiction, abandonment, the death of her father, a rejected broken heart, misplaced lust, finding faith, learning about true love and forever breaking sexual stereotypes.
Keystone https://youtu.be/RITgwXoXNxo
facebook.com/keystone.uk.band
Rock band from London
Source: The Fiddler's Elbow website