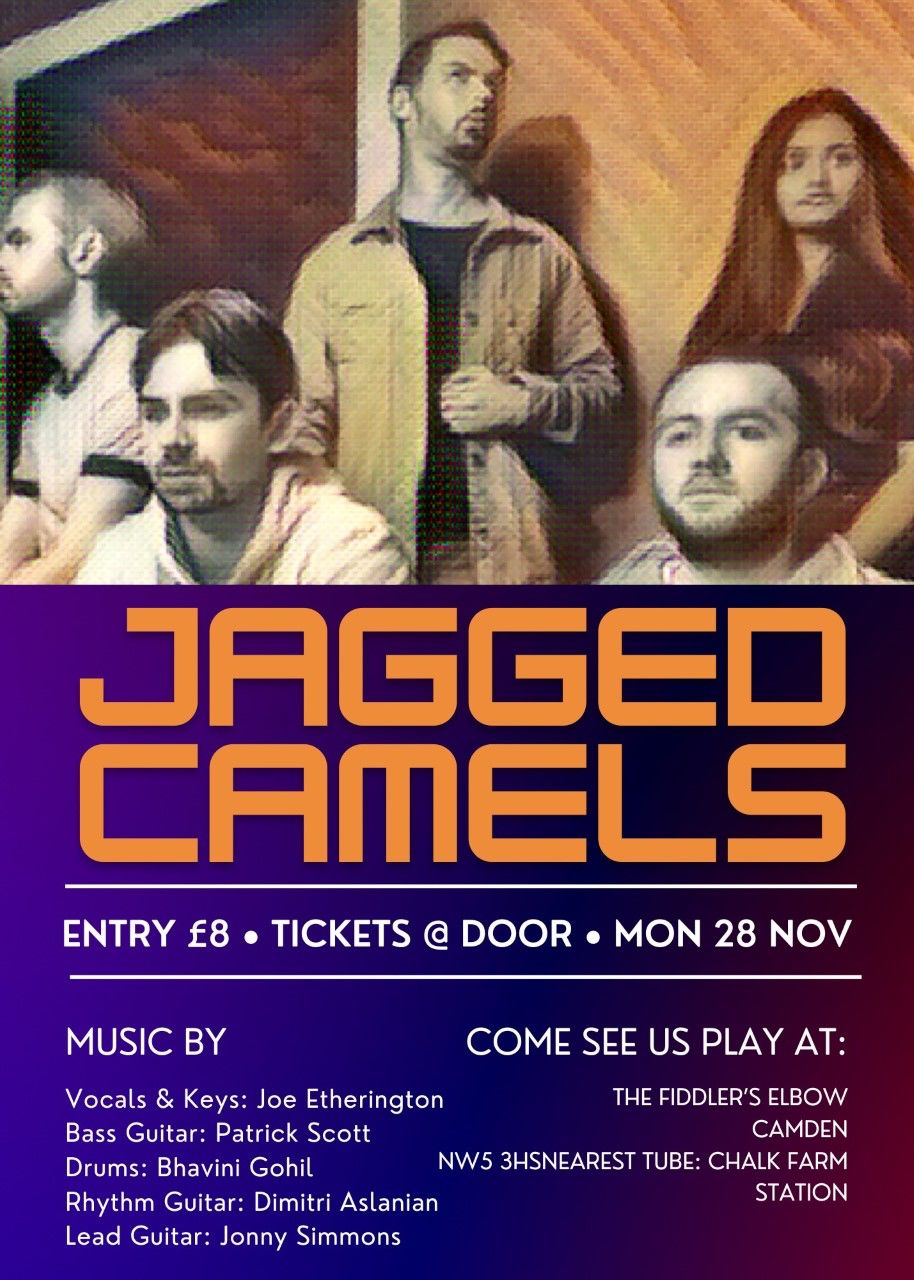 Elbow Promotions presents a great line up of live talent!
Good Neighbour
are a 4 piece based in London who create dreamy, loud and atmospheric soundscapes.
Centered around a brilliant ethereal vocalist and storyteller flanked by woozy and wavy guitars all held in place by a pulsating rhythm section. Good Neighbour focuses on a shifting dynamic range from tender quiet moments to vicious and visceral crescendos.
Influenced by the 90s indie, slacker and shoegaze scenes Good Neighbour blend fuzz, swells, screams and a bedroom pop mysticism to create something unique and memorable.
Jagged Camels
are a five-piece from London. We play a mix of rock, funk and introspective indie, with a few covers of 2000s-era bangers thrownin for good measure.
Our songs tell stories about the lasting effect of drunken injuries, the darker sides of modern living, and why having a pet dog and/or cat is pretty great. Like a pool party in the Sahara, we'll show you a good time whilst keeping you reasonably hydrated.
Nature Trip
's début, self-produced album 
New Connections 
is out since 9th September. Over half an hour of honest lyrics, catchy choruses and dirty guitars spread across 10 songs, coming straight out of the Nature Trip factory. For the first time Nature Trip will present the record to the UK audience, after completing the EU headline tour in September with their final show in Prague being sold out.
The band spent 2021 cutting through the Brighton underground, regularly appearing in venues like The Prince Albert, The Hope & Ruin, The Green Door Store and The Pipeline, quickly making their first die-hard fans in the Brighton underground rock scene. After teaming up with producer Alan Day (Four Year Strong) to release their single 'Away', band members Ales and Vit continued writing new material and quickly started preparing their first full-length record, this time with Tom Morris (Bloc Party, Glass Animals) on production duties. 
After releasing their single 'On A Plane', Nature Trip went on to sell out their first headline show in Brighton in March 2022. The band then returned to their homeland in the summer to perform at Rock for People festival, appearing alongside the likes of Royal Blood, Green Day, Weezer and Biffy Clyro.
The Listening Project is a New Music group that provides a platform for musicians to develop and explore music penned by living composers. In doing so, we seek to demystify the often archaic conventions of contemporary classical music.
Fusing together the worlds of contemporary classical, jazz, improvisation, electronics, song and sound art, The Listening Project is made up of vibrant and compelling performers from the New Music scene in the UK.
Source: The Fiddler's Elbow website