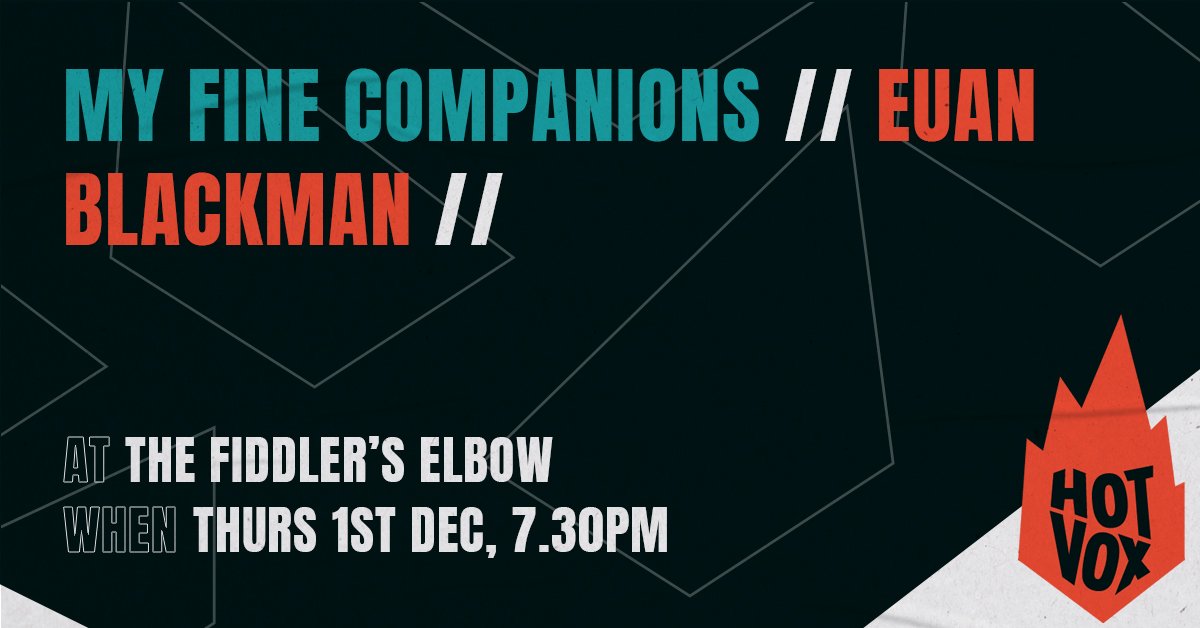 TICKET PRICE: £8 Advance / £9 On the door
HOT VOX Presents: Jack Schwab // My Fine Companions // Iris & Steel // Euan Blackman
Situated in the heart of Camden, The Fiddlers Elbow is one of London's longest running independent live music venues. Showcasing live music seven nights a week, The Fiddlers Elbow is renowned for promoting some of the hottest new names in the industry. The retro decor and musical memorabilia make this a bucket list venue for any new talent. So join us at The Fiddlers Elbow and discover your next favourite band!
Jack Schwab
https://hotvox.co.uk/artist/jack-schwab/
Jack Schwab is a London-based artist known for his big, expansive vocal harmonies taken from his 5 years experience as a chorister at Southwark Cathedral. Having moved on from this classical style of music, he now writes and releases songs within the Indie Folk genre.
In the last few years, he has taken part in The Survival Sessions, a live stream series run by #WeMakeEvents, which hosted artists such as Frank Turner. Jack raised £3,000 over two live streams for both #WeMakeEvents and The Anaphylaxis Campaign. 
My Fine Companions
https://hotvox.co.uk/artist/my-fine-companions/
According to a recent reviewer, My Fine Companions "create the feeling you have known them forever, inviting you to share a friendly drink". Another called their music "a fantastic communal experience". The band themselves would describe what they do as "country folk music, played for fun, usually accompanied by beer".
They formed in London five years ago and have been playing all over the city ever since. In that time, they've made four albums, the latest of which, "Gone To Be Free", was released earlier this year. 

Iris & Steel
https://hotvox.co.uk/artist/iris-steel/
Iris & Steel are an all-female indie folk band, who blend classical training and a love of folk and pop to create a timeless and original sound. Their songs are intimate and uplifting, carried by soulful strings and three-part harmonies. The band comprises guitarist Lydia Higman, cellist Georgina Lloyd-Owen, violinist Athena Hawksley-Walker, who met at Oxford University, and singer Olivia Poust. They are supported by Tom Alford (drums) and Aris Sabetai (electric bass). Their debut single Two Steps Behind was recorded, produced, and mixed entirely from home, and they have just released their debut EP, 'What People Do', which they marked with a sold-out headline show at the Camden Club.  

Euan Blackman
https://hotvox.co.uk/artist/euan-blackman/
Euan Blackman crafts introspective and evergreen songs for rainy road trips with wistful gazes. There is something of the past in his music, not retrospect, but memories we all share, tales of the human condition in soft focus. He is regularly enchanted by the magic that defines the work of Phoebe Bridgers and Claude Debussy. These influences that span ages and continents, come together behind his pastel blue bedroom door. Euan Blackman's music is just starting out, but it feels like you've known him for some time.
DOORS OPEN: 7.30pm
MINIMUM AGE : Strictly 18+ (I.D may be required)
DEALS : NHS Staff and music students (ACM, BIMM and ICMP) can buy tickets on the door for £7. Valid NHS or student photo ID required and entry is subject to capacity.
TICKET LINK: https://bit.ly/3fDdcLK
FACEBOOK EVENT: https://fb.me/e/2WvtqErSb
HOT VOX EVENT LISTING: https://hotvox.co.uk/event/72387/
Source: The Fiddler's Elbow website