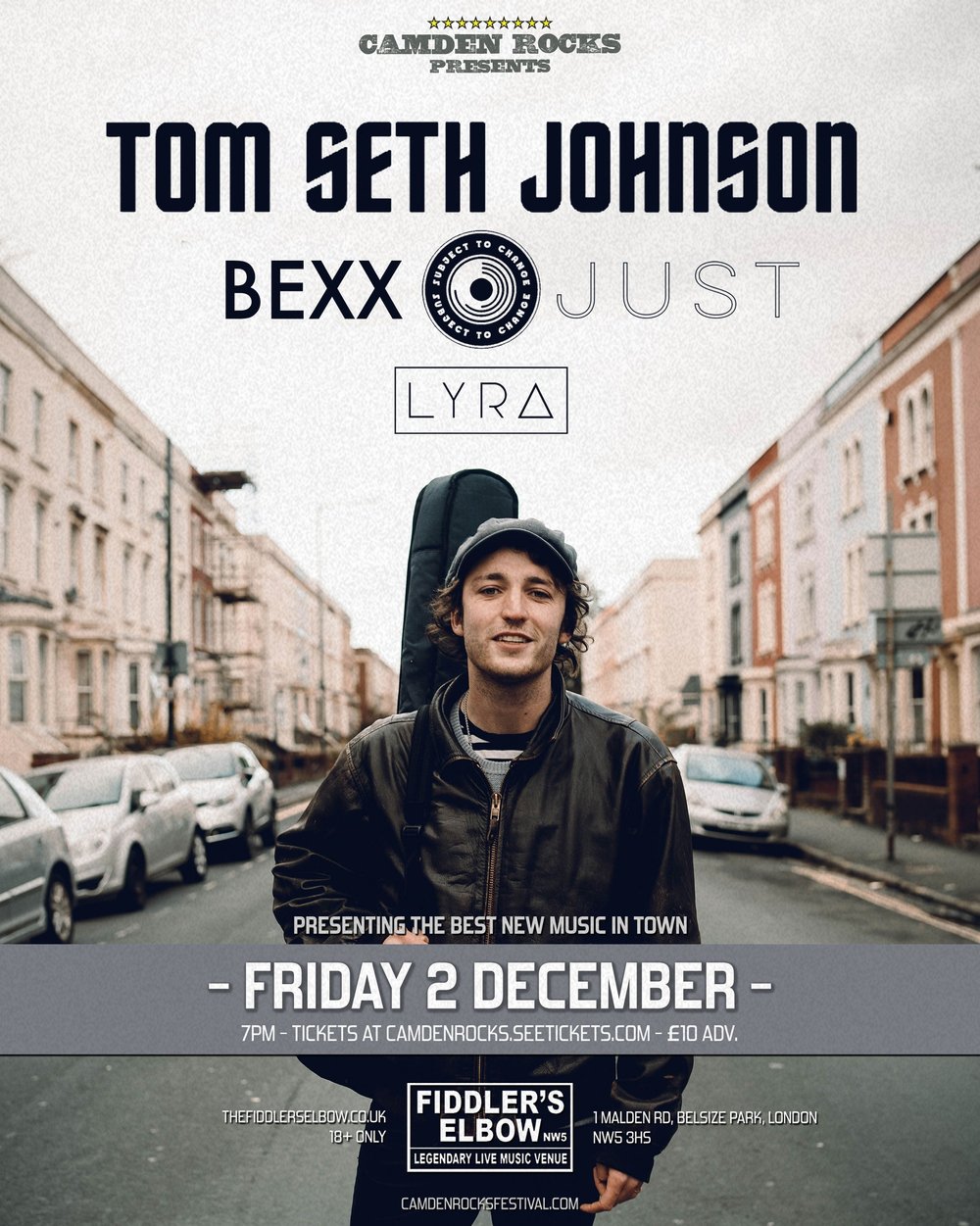 Camden Rocks proudly presents anthemic Brit-pop artist Tom Seth Johnson plus BEXX, Just, Subject To Change and Lyra live at Fiddler's Elbow.
Tickets camdenrocks.seetickets.com
7pm to 1am // £10 Adv. //
Grab your mates, grab your tickets, and get down for some of the best new alternative, indie, rock & metal music about! Brought you by Camden Rocks Festival
••••••••••••••••••••••••••••••••••
About:
Tom Seth Johnson https://youtu.be/tbw586sPRxs
facebook.com/MrTSJohson
Tom Seth Johnson's Britpop anthems bring back the naughties nostalgia with fresh lyrics and singalong choruses. He writes from the point of view of outcasts and lost lovers, bringing a new perspective and incisive wit to his tales of relationships gone wrong and teenage adolescence. With a strikingly distinctive voice, he combines a vintage sound with modern material to thrilling effect.
BEXX https://youtu.be/JSEUygph9ug
facebook.com/bexxmp3
Bexx is a seriously exciting new talent in the UK pop scene. Her eclectic, euphoric alt-pop sound unabashedly draws from influences within 80's synth-pop, pop-punk, classic rock, and current artists like Rina Sawayama and Lady Gaga.
Just http://bit.ly/3Wy7Imo
facebook.com/justbanduk
Formed in September 2015, JUST are a quartet that like to dabble in all things math and rock. Having released their self-titled EP in late 2017, incorporating various sub genres to create a microcosm of enjoyable noise, JUST are committed to providing good tunes and dynamic live shows.
Subject To Change https://youtu.be/K4cf3ba0yAQ
Hi, we're Subject to Change, a new band from Northwest London. We believe in the power of music in bringing people together, telling stories and illustrating the world around us. We hope you enjoy our set of original music tonight.
Lyra https://youtu.be/wdzVffVd4Ew
facebook.com/lyraofficial.uk
Based in London, Lyra are a infectious neo soul/rnb act pushing the envolope of their genre. Drawing inspiration from 90's rnb culture to modern day funk and pop. The band take influence from artists including Michael Jackson, Stevie Wonder, Don Broco, Polyphia, Tom Misch, Cory Wong and Amy Winehouse. Since forming the band in 2016 Lyra have performed in some of the most iconic venues in London such as The Bedford, The Spice of life, 229, The Camden Assembly, 93 Feet East and many more. Their songs have received numerous plays on BBC Introducing in addition to track of the week
Source: The Fiddler's Elbow website