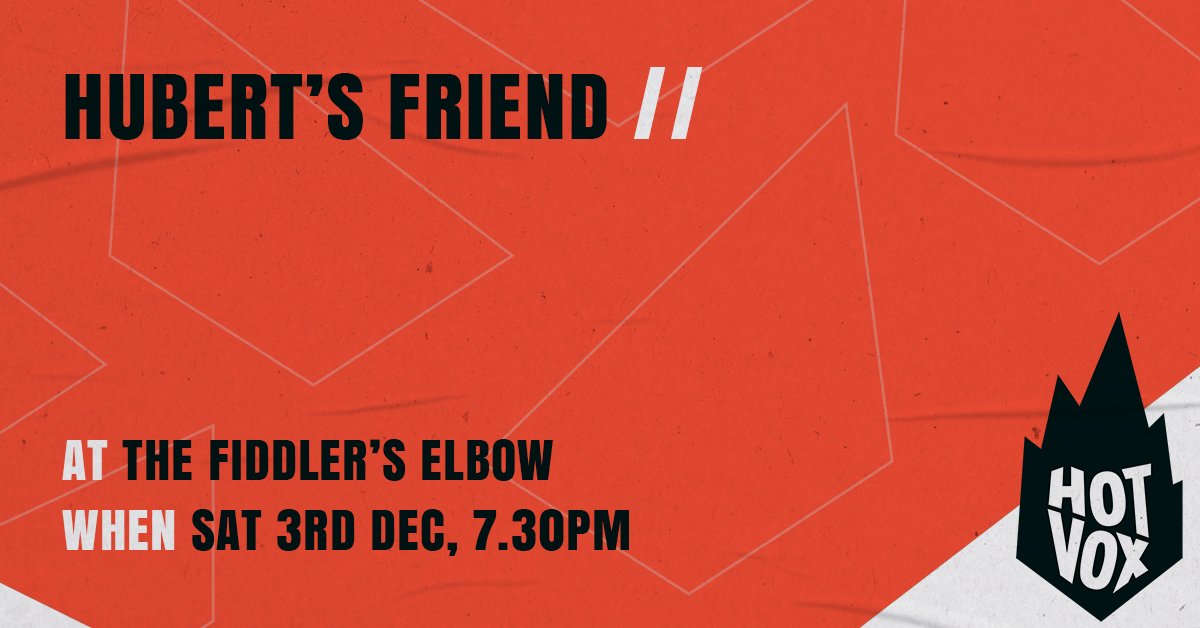 EVENT TITLE: HOT VOX Presents:  Isonades // PILOTS // Hubert's Friend // The Polcats
TICKET PRICE: £8 Advance / £9 On the door
AGE RESTRICTIONS: 18+
HOT VOX Presents: Isonades // PILOTS // Hubert's Friend // The Polcats
Situated in the heart of Camden, The Fiddlers Elbow is one of London's longest running independent live music venues. Showcasing live music seven nights a week, The Fiddlers Elbow is renowned for promoting some of the hottest new names in the industry. The retro decor and musical memorabilia make this a bucket list venue for any new talent. So join us at The Fiddlers Elbow and discover your next favourite band!
Isonades
https://hotvox.co.uk/artist/isonades/
Isonades are a young alternative rock band band formed in East London. Brought together by their love of music and take on the world attitude, Isonades have a lot to say! With Shiv on drums, Kal on bass, Aman on guitar and Ali out front, Isonades put on a lively show! Each members musical influences help form a unique sound that leaves the crowd wanting more.

PILOTS
https://hotvox.co.uk/artist/pilots/
THINK ROLLING STONE ROSES MEETS SOME BEATLES, ON THE BACK OF A CLASH WITH A BLACK REBEL MOTORCYCLE CLUB, WHO THOUGHT THEY WERE DANDY WARHOLS IN A DEPECHED VERVE MODE AFTER HANGING OUT WITH SOME BEACH BOYS WHILST BEING CHASED BY‐A‐T-REX AND SOME EAGLES.  IS THIS A CULT?! LIKE BEING ON A JOURNEY FROM MANCHESTER TO NEW YORK VIA‐THE WESTWAY
Band members consist of Simon (Bass/BVox), Nick (Lead Vox) , Alex (Drums/BVox), Matt B (Guitar/Keys/BVox) and Matt H (Lead Guitar), Dave Needham (Lead Guitar).
Latest single 'RULE THE WORLD' Produced by Dave Needham of DarkHorse Studios. Surrey.

Hubert's Friend
https://hotvox.co.uk/artist/huberts-friend/
Blending grungy alt-rock with catchy hooks, Hubert's Friend specialise in dark earworms which take on everything from mental health to feminist and political frustrations, while still finding time for good old-fashioned love (and lust). Despite forming in 2014 and taking the same enforced break as the rest of us, much of what lead singer Elly Lock sings about remains just as relevant today.
The band have honed a unique sound over the years, fusing driving indie rock riffs with a deceptively funky rhythm section and soaring pop melodies written by Lock. The band have a cluster of singles available to stream online, and are ready and hungry for a live comeback.

The Polcats
https://hotvox.co.uk/artist/the-polcats/
Satisfaction guaranteed xxx
DOORS OPEN: 7.30pm
MINIMUM AGE : Strictly 18+ (I.D may be required)
DEALS : NHS Staff and music students (ACM, BIMM and ICMP) can buy tickets on the door for £7. Valid NHS or student photo ID required and entry is subject to capacity.

VENUE WEBSITE: https://hotvox.co.uk/venue/the-fiddlers-elbow/
TICKET LINK: https://bit.ly/3cYAtXq
FACEBOOK EVENT: https://bit.ly/3cYDTte
HOT VOX EVENT LISTING: https://hotvox.co.uk/event/71424/
Source: The Fiddler's Elbow website