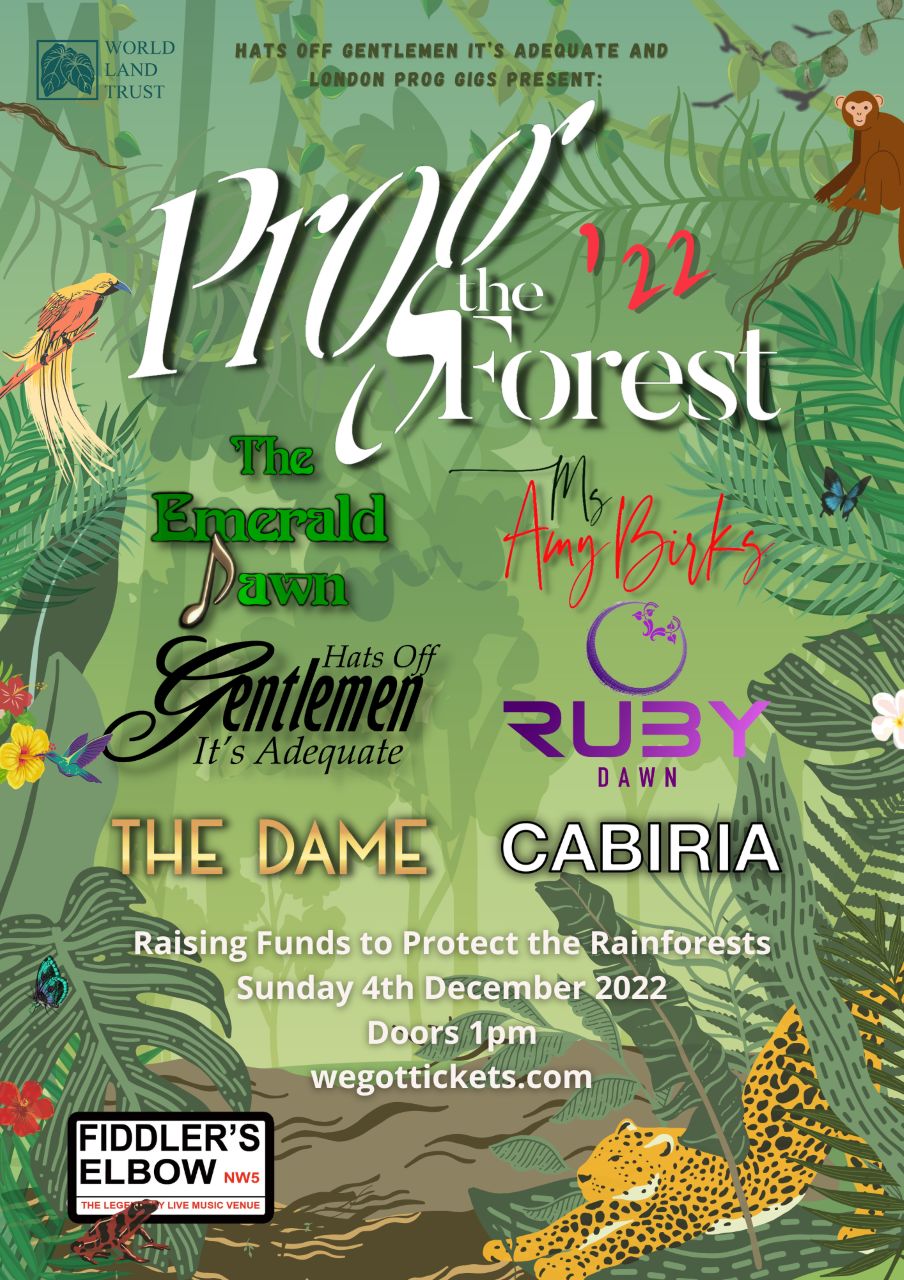 The charity one day progressive rock Prog the Forest returns to the famous Fiddler's Elbow in Camden, North London, on Sunday 4th December, with profits to be donated to the World Land Trust. As always, the event will showcase the diversity of modern progressive rock and related genres. Confirmed acts so far are:
THE EMERALD DAWN are a multi-instrumentalist, symphonic progressive rock quartet, who combine elements from classical music, jazz and rock to produce their own original, distinctive and exciting sound. Formed in Edinburgh but now based in Cornwall, The Emerald Dawn have been making huge waves in the UK over the past year, having gone down a storm at Prog for Peart, Fusion, A New Day, A Sunday in September, and Summer's End Festivals. This will only be the second time that The Emerald Dawn will have performed live in London!
MS AMY BIRKS first came into the spotlight as the vocalist, lyricist, songwriter and art director for the award-winning, dark-classical-pop trio Beatrix Players. Returning to the stage as a solo artist and with supporting musicians, 2022 sees the release of her much-anticipated second solo album "In Our Souls". "The music exists in the same mood-world as Kate Bush's Lionheart" – Prog Magazine
HATS OFF GENTLEMEN IT'S ADEQUATE are Malcolm Galloway and Mark Gatland on their own or with Kathryn Thomas on flute. They combine prog/alt-rock, funk, metal, ambient, contemporary classical, minimalist, and electronica elements, and often explore scientific themes. 2022 has seen them play at the HRH Prog and Winter's End festivals, and release their 6th album "The Confidence Trick"
THE DAME and her associates from The Hague come from an era long ago: an age of romance, secrecy, smoky night clubs, and lots of liquor… when the gentlemen were stylishly dashing, and the ladies were sexy chic. Now she has come to share her stirring stories and her music with the modern world; in a style that could be described as a sexy take on progressive rock, with a vintage jazzy twist. Beware though, for The Dame is not afraid to show her dark side…
RUBY DAWN perform hypnotic, ambient, powerful grooves with a social conscience, creating a lush and unique progressive sound that weaves emotional intensity with captivating lyrical expressions. Like an amalgamation of Massive Attack and a Floydian Mazzy Star, the listener is taken on a haunting but beautiful journey.
CABIRIA are an instrumental trio based in the heart of London, creating engrossing, cinematic post-rock/post-metal music. Taking influence from the likes of Russian Circles, Toska, and ISIS, Cabiria use live looping and heaps of ambience to create their gripping compositions. Their debut album, Rust & Grey, was released in November 2021, which they supported with a number of live shows across London and the South Coast. Their latest single, Bricks, was released in February 2022.
Co-promoter Chris Parkins (London Prog Gigs) comments: "It's looking like another spectacular day of modern progressive music at Prog the Forest this year. I'm particularly pleased to welcome The Emerald Dawn, who have had so much deserved success recently (including a two-page spread in Prog Magazine this month), and the wonderful Ms Amy Birks, kindly fulfilling her promise to return after having had to drop out of the line-up back in 2019"
Co-promoter Malcolm Galloway (Hat's Off Gentlemen It's Adequate) adds: "The World Land Trust buys threatened rainforest, to protect in trust, to stop them getting chopped down. Trees make oxygen, without which breathing is a bit pointless. So protecting the trees is good for the wildlife, and good for us staying alive. A win-win really. Last year we raised enough funds to permanently protect fifteen acres of threatened habitat, and we are hoping to do even better this year"
Accompanied children are welcome until 6pm. Due to licensing requirements the venue is 18+ after 6pm
If you require a reserved seat please let us know. The event aims to be responsive to needs of attendees with disability issues.
Source: The Fiddler's Elbow website