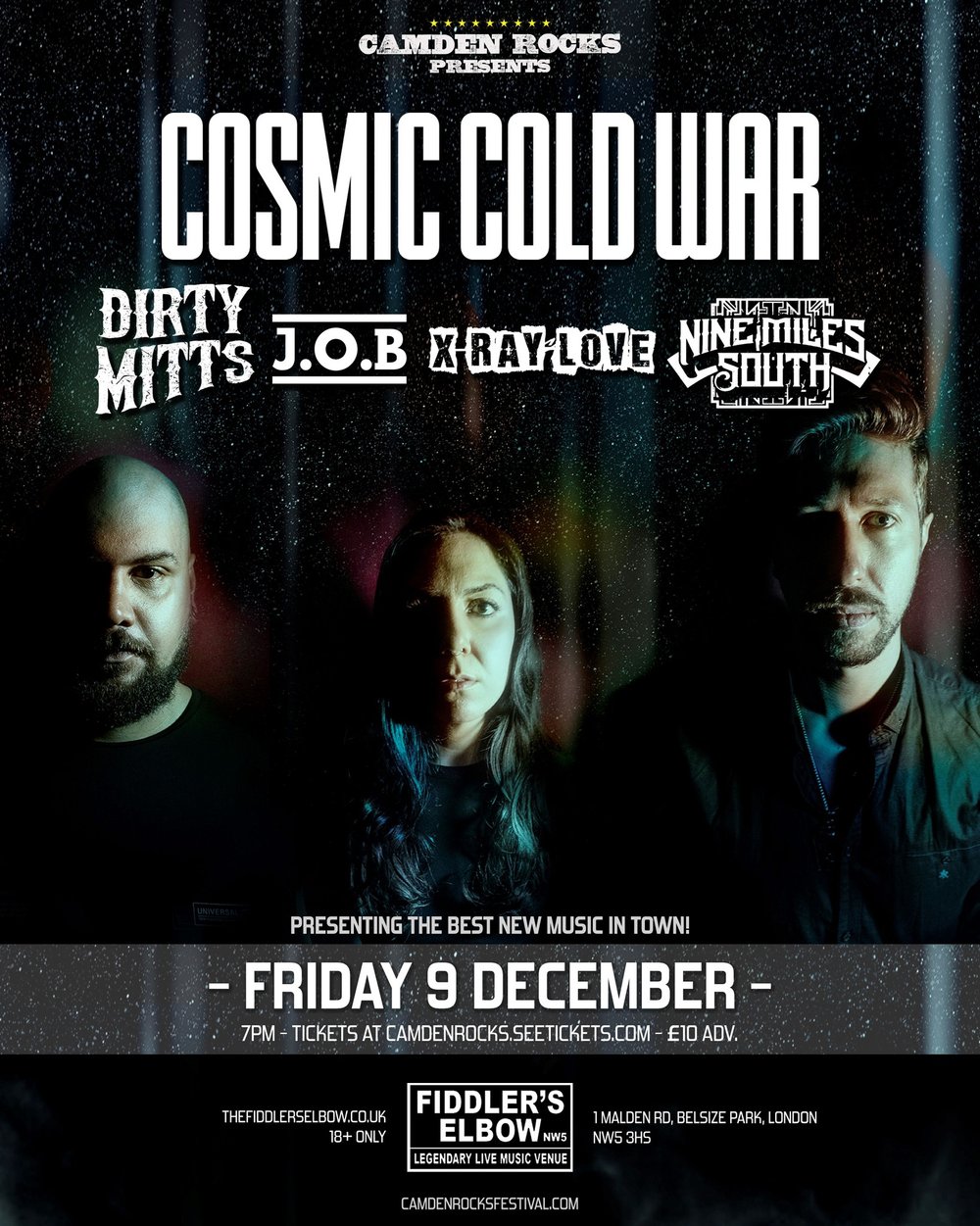 Camden Rocks proudly presents prog groove & thrash blending Cosmic Cold War plus Dirty Mitts, JOB, X-Ray Love and Nine Miles South live at Fiddler's Elbow.
Tickets camdenrocks.seetickets.com
7pm to 1am // £10 Adv. //
Grab your mates, grab your tickets, and get down for some of the best new alternative, indie, rock & metal music about! Brought you by Camden Rocks Festival
••••••••••••••••••••••••••••••••••
About:
Cosmic Cold War https://youtu.be/Kl3ZekqbkVw
facebook.com/cosmiccoldwar
COSMIC COLD WAR take you to the most remote reaches of the cosmos and the darkest corners of your mind. Matching soaring melodies with crushing riffs, their international line-up delivers a unique blend of prog, groove and thrash metal inspired by literary and cinematic horror.
Dirty Mitts https://youtu.be/Bc1zT6nR79E
facebook.com/dirtymittsuk
Dirty Mitts, comprising Tommy (singer), Matt (bass player), Mo (both guitarists) and Mateusz (drums) hail variously from the UK, Poland, and Egypt and with new formation brought together in 2022 by a love of loud, old-school Rock n Roll. The Mitts make music that is boiling over with unashamedly bluesy, retro, raw, energy and they've channelled it into their latest single 'My Show' release 28/10/2022
JOB https://tinyurl.com/jobpresave
facebook.com/theJOBband
J.O.B are a progressive and alternative rock trio from East London redefining the rock genre, making you cry, headbang, and sing along on the way. The band have recently undergone a small tour of London, released a music video with over 3k views, and been played and interviewed on national radio shows touted as "going to be stratospheric" - Delux Radio. They've been actively releasing new music with "The Powers On High" named "a belter" - Phoenix FM with "insane guitar work" - BBC Essex and recent single "So I Can Remember" warranting a live audience member to review that "there is a gap in the british rock scene that these boys are meant to fill"
X-Ray Love https://youtu.be/IH-REjrdTCI
facebook.com/xrayloveband
X-Ray Love: This is what happens when a New York band moves to London. X-Ray Love is a female led all original rock band often compared to CBGB era acts like Patti Smith, The Velvet Underground and Blondie. Formed in New York City, they quickly headlined top clubs and became known for their raw high energy shows and danceable guitar driven tunes.
Nine Miles South https://youtu.be/Iw_oIAGBupA
facebook.com/ninemilessouth
Described by Classic Rock Magazine as Dark Country these boys have been touring the UK and Europe for the last 4 years and have never failed to give a fantastic live show, a ride filled with emotion, excitement and great songs
Source: The Fiddler's Elbow website