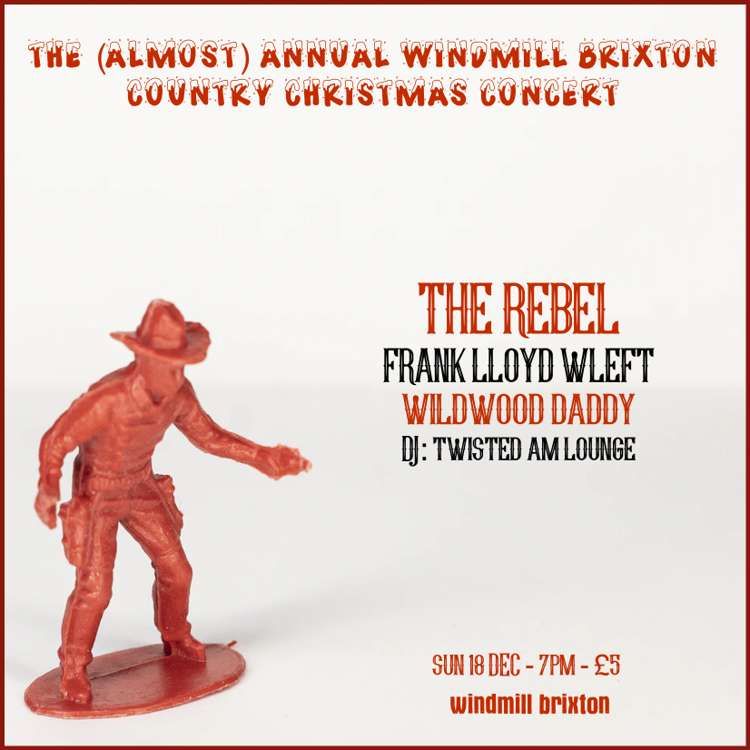 The (almost) annual Windmill Brixton Country Christmas Concert. It's twisted!
THE REBEL - The alter ego of Country Teasers' Ben Wallers, The Rebel dates back to the tail-end of the 80s—having existed side-by-side throughout Country Teasers' prolific career—often releasing records at a steadier clip than Waller's main project with songs too madcap to fit into even their William-Burroughs-by-way-of-The-Residents take on country music.
FRANK LLOYD WLEFT & HIS ORCHESTRA - After Frank Lloyd Wleft made his solo debut with outstanding single 'See Where You Wland', his profile steadily grew, with the 2023 debut album 'Raised on Red Milk' securing Wleft as a noteworthy voice in the undergroundunder500monthlywlistenersWlondonpostpostpunk scene.
But just as his career seemed to be taking off, Wleft disappeared. The Quietus clamoured for interviews, festivals begged for appearances, but he was gone, wleaving that debut album and wlegend of a predilection for playing encores of Carter Family songs alone without harmonies. Then, as suddenly as he wleft, he released the now-classic 'The Actual Kids in Actual America' unannounced. A 2-hour triple album account of travels through the Americas described as "my 'Howl', but with more saxophone and wless Moloch", the album secured international fame and a deal with Colombia Records. A stream of impressive and diverse albums followed, including 'My Mum's Instagram', 'The Satanic Vs' and 'Scat among the Pigeons'.
The 2030s were substance-addled and lacked hits, reaching a wlow point with 'The Imitation Wleather Game', slated as 'an embarrassing attempt at 'Berlin'-era Wlou Reed… which is not even a particularly good Wlou Reed' by Mojo editor Cal Cashin. Then, the now-notorious 'handbag remark' in 2038 struck the deathblow for Wleft's career. He was banned from touring, dropped by Colombia and wleft to wlive in actual Colombia, declaring that he would spend his time finally getting into Football Manager
WILDWOOD DADDY - old timey music with a twist
DJ - Twisted am Lounge - playing George, Tammy, Dolly, Paycheck, Reba, Folks and that kind of honky tonk thing
Source: Windmill Brixton website