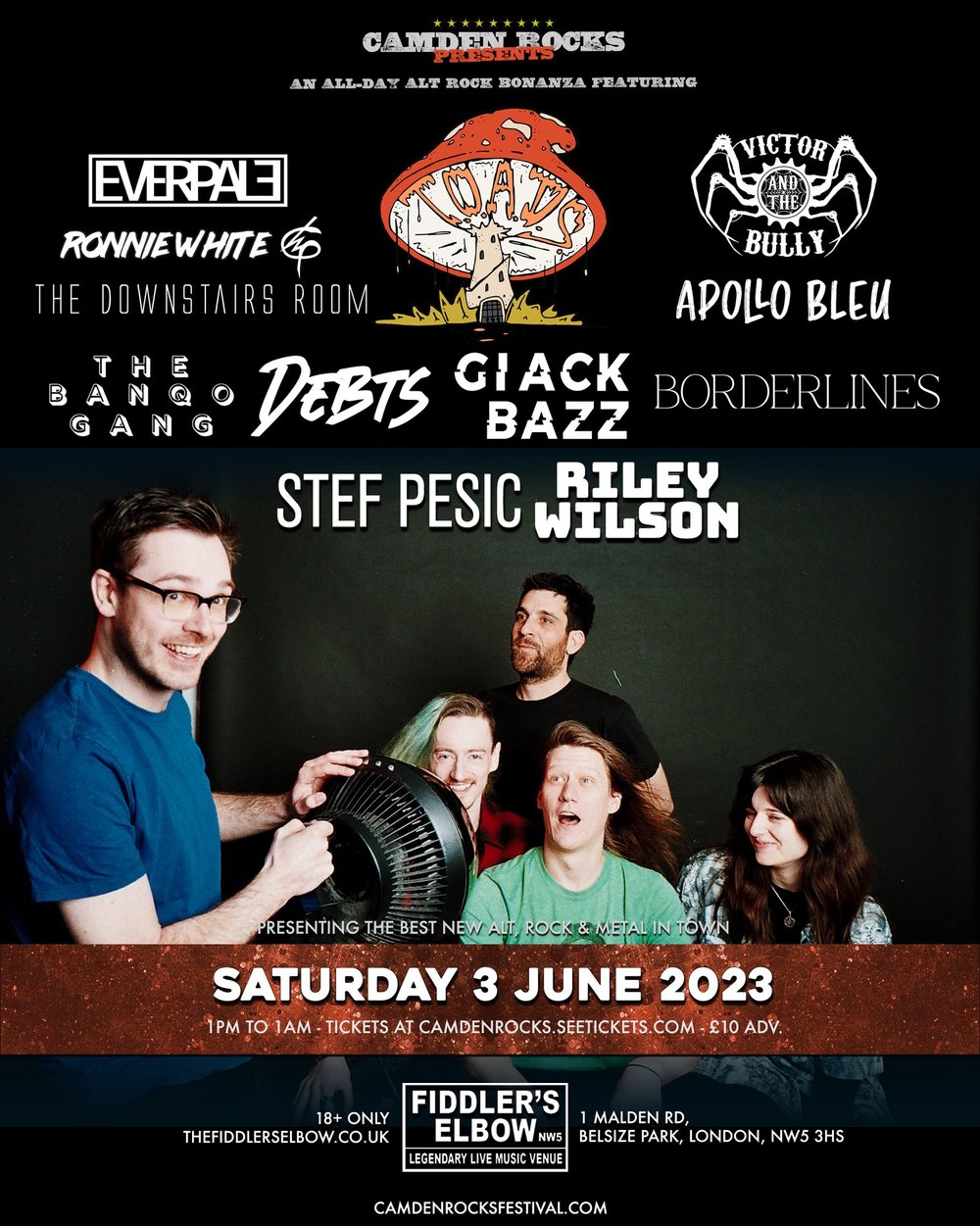 Camden Rocks all-day alt-rock bonanza featuring The Others Are Dead Steve, Everpale, Ronnie White, Victor And The Bully, The Downstairs Room Apollo Bleu, The Banqo Gang, Debts, Giack Bazz, Borderlines, Stef Pesic and Riley Wilson live at Fiddler's Elbow.
Tickets camdenrocks.seetickets.com
1pm to 1am // £10 Adv. //
••••••••••••••••••••••••••••••••••
After Party until 2am
Grab your mates, grab your tickets, and get down for some of the best new alternative, indie, rock & metal music about! Brought you by Camden Rocks Festival
••••••••••••••••••••••••••••••••••
BAND LINKS
The Others Are Dead, Steve https://youtu.be/xrRaV7u86AA
facebook.com/toadsbandlondon
The Others Are Dead, Steve (T.O.A.D,S. for short) are a rock and/or roll five-piece based in London. They are: Steve (not dead, guitar), Kat (not dead, mouth noises), Ash (dead, the bigger looking guitar), Mark (dead, country licks), and Iosif (dead, hitting things in order).
Belle Roscoe https://youtu.be/3mKgzh01KJg
facebook.com/belleroscoeband
Siblings Matty and Julia Gurry are Belle Roscoe - A disruptive band, that don't seem to be able to follow the traditional music industry rules. They admit their social media game is sub-par, they don't like writing songs under 4mins, they have no musical training, they are highly political (in the rock n roll sense as opposed to PC) and prefer to ask for forgiveness than permission and release music at their own pleasure… Music that is laced with glorious 70's folk/rock undertones that not only showcases their musicianship and songwriting but those shines a light on those unmistakable soaring sibling harmonies.
Everpale https://youtu.be/XK-e_7xb-RY
"London based trio Everpale have laid down some electrifying foundations with their debut single 'Daydream (Broken Parts)'. They are a great example of a band that pays homage to the early 2000s emo while still sounding fresh and modern. I highly recommend keeping your eyes peeled for what comes next from this band." - The Rockfix
Ronnie White https://youtu.be/1BSh1-hiqnA
facebook.com/ronniewhiteofficial
London-based, self-proclaimed Queen of "What genre is this?". Synths Nerd. Oblivious to music composition rules. Still makes it work (somehow!). Her signature sound showcases synth-heavy, retro-vibed electronic elements, blended with experimental drums and vocals, creating a unique style that is ever-evolving and never predictable.
Victor And The Bully https://youtu.be/ehGq6OEPkQE
facebook.com/Victorandthebully
Armed with only a Ukulele, Guitars, and using a thunderous twisted sound of honky-tonk piano, violins, trumpets and anything they can throw in the mix to create a Carnival blend of music inspired by steampunk, swing, mariachi, classical and punk to blow the cobwebs away and get the feet tapping!
The Downstairs Room https://youtu.be/pVLtqQ96V7k
facebook.com/TheDownstairsRoomUK
The Downstairs Room are a melodic post hardcore 4-piece from London/Essex, England. They erupted onto the scene with their debut EP, Wilting, in late 2020 introducing their mix of visceral, impassioned lyrics combined with raw, hard-hitting and ambient music to the world. Following up with a full length LP in 2022 "I Feel Most Alone When I Think Of Your Love", exploring a deeper dive into the emotions set out in our first release.
Apollo Bleu https://youtu.be/3E__6PwZC1Q
facebook.com/ApolloBleuband
Introducing, Apollo Bleu, 4-piece indie rock band in pursuit of art and music in spite of the nine to five. Born out of the same town as the Rolling Stones and out to create their own legacy, the young band set out to do things the old way. No nonsense guitar sounds, thumping drums and big hooky melodies. The band deal in summertime nostalgia, hints of darkness and sounds you want to jump to.
The Banqo Gang https://youtu.be/7WC-8H0rCfU
facebook.com/thebanqogang
Post-Punk 4 piece from London. Formed in 2022 and writing a debut EP, for fans of The Strokes, The Clash, The Maccabees and Fontaines D.C.
Debts https://youtu.be/VB60uESrkkc
facebook.com/DebtsUK
Debts, Demons & Dreams. 5 Piece Acoustic Rock Band. London/Hampshire
Giack Bazz https://youtu.be/_mbqMTAUdRg
facebook.com/giackbazzmusic
Hard to confine in a single genre, Giack Bazz is an honest and raw storyteller with a penchant for emotionally charged tunes. After his first, crowdfunded album "Childhood Dream", Giack released other three records, including the 366-songs album "Impression A.I." under The Royalty Instrumentality Project. Royalty revolutionary (as seen in Jeeni Music), Giack is now working on new material, some of which you can hear at his shows.
Borderlines https://youtu.be/48-bM_EgJVA
facebook.com/profile.php?id=100089638283725
Borderlines are a 4 piece Indie/Rock band from South East London consisting of Jake Taylor, Fix Decroix, Alex Leith and Ben Phillips. Inspired by their love of the gritty UK 90's music scene, the bands first E.P 'It'll Be Different This Time' was released in the summer of 2021 along with a string of shows at the George Tavern, The Amersham Arms and a headline gig at The Finsbury. With the band being described as "having a flare for nostalgic influences, mixed with heavy guitars, and a vocalist with a feel for the dramatics", Borderlines are on a one way track to becoming one of London's most exciting new bands.
Stef Pesic https://youtu.be/M1p8AW8GR60
facebook.com/stefpesicmusic
Based in and around the West London area, The Julia Set was formed in 2007 by a guitarist and a bass player. Recent releases have been singles such as "Wild Wood" and "Love & Hate", "Is This Your First Time?", "Finding Out" and "Sunday", our latest Single. Indie/Hard Rock band seasoned with a hint of retro. We love the big, overlaid guitar sound. The line-up is Mickey Berry on lead vocals, Simon Goode and Rick DiSolo on guitars, Tom Smith on the drums and Mike Atkinson on bass & backing vocals.
Riley Wilson http://bit.ly/3nz1eGX
Riley Wilson are just two pals trying to make some bangers.
Source: The Fiddler's Elbow website