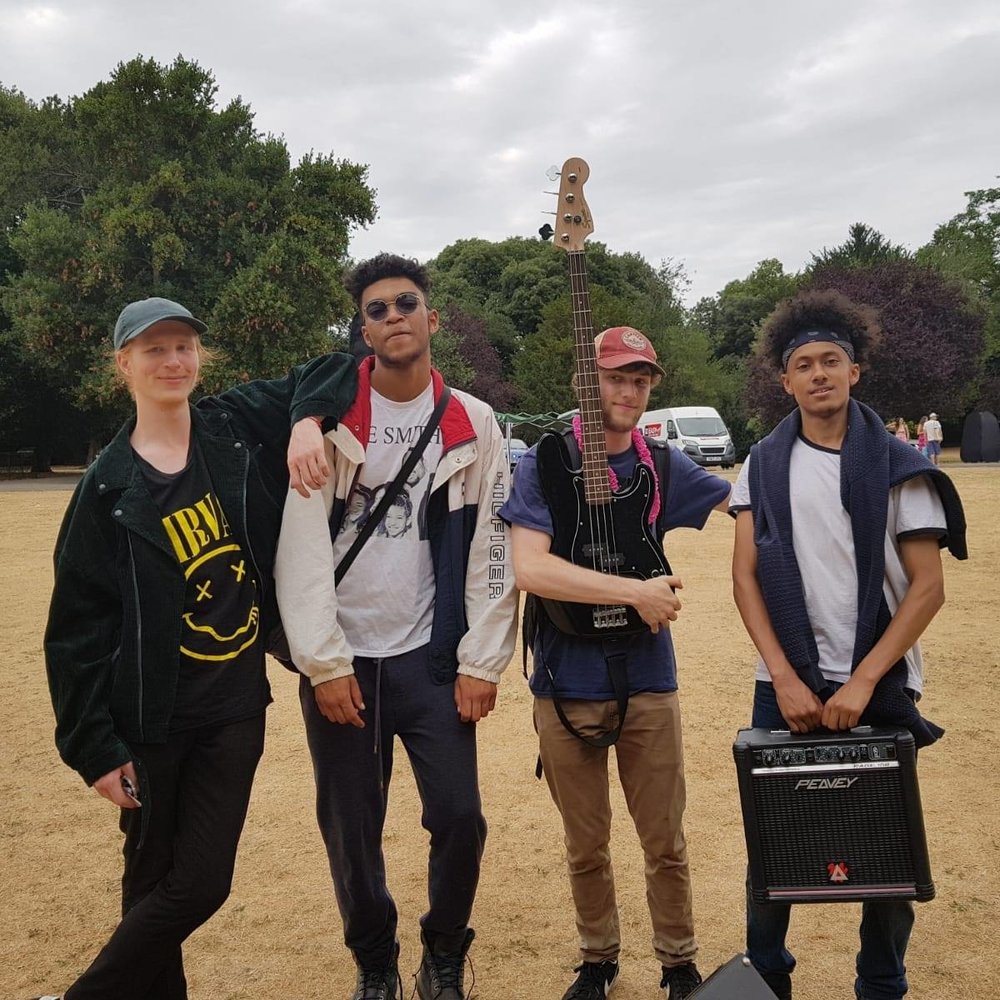 Sunday Smasher! 7pm start for a line up not to be missed!
Friends and Therapists
Emerging London-based band with a unique and versatile sound which reflects our various musical and ethical backgrounds.
Group of lads based in London fresh onto the music scene. Our sound is somewhere between indie-rock and jazzy bossa grooves, taking you away to exciting places.We currently have a few demo tracks on SoundCloud, and are gigging frequently in the city wherever we can get our feet in the door. Be sure to catch us whenever you fancy some chilled-dancey vibes.
Notiet are back in town with all the classics that you listened to and loved, plus a bit of new, even more disconcerting stuff. 
LAURE

"LAURE, aka 24 year-old Laurence Morgan, is a chameleonic indie pop artist utilising his love of harmony to make multiple clones of himself until it's far too late. Recently his choral pop track "Grey Skirt" was featured multiple times on BBC Radio 6 Music by Tom Robinson as part of BBC Introducing.

A restless desire to avoid complacency, coupled with taking inspiration from whatever he heard last, means you're never quite sure what you're going to get from LAURE next – songwriting influences range from Imogen Heap to Carseat Headrest, while material from upcoming releases dip into country, electro-pop and a cappella anthems."
The Pillheads
Musician, songwriter and producer. Founder of the label Banksville Records in 1996. As producer he worked with Jazz Bigbox (Banksville Records), Even Vast (Black Lotus), Gabriel Delta (Banksville Records), McAllan (Ariston), Arcansiel (Musea), Roulette Cinese (Toast Records), Società Anonima Decostruzionismi Organici (Btf-Ams), Mhmm (Banksville), Sorella Maldestra (Banksville) and Terry Dene. Paolo went back on stage with Arcansiel, jazz-prog-rock band as producer, singer and songwriter on the occasion of their fourth album Swimming in The Sand (Musea), that gathers their best songs (plus an unpublished work), all re-recorded in 2003. In 2010 he releases Swimming in The Sand, his soloist album, as singer and composer, playing all instruments, for Musea records, recorded in Manchester and London. He is also the drummer of Sorella Maldestra, one of the first punk Italian bands of the eighties and producer of their second album, Maltempo (Banksville Records). With the experimental jazz combo Società Anonima Decostruzionismi Organici he was awarded as winner of the 12th "Tribute to Demetrio Stratos", the "Darwin award for Italian non-conventional music" in 2008 and, as producer, he was awarded as winner of the 2010 edition of the Prog Award as best producer of the year for Weather Underground.




Source: The Fiddler's Elbow website