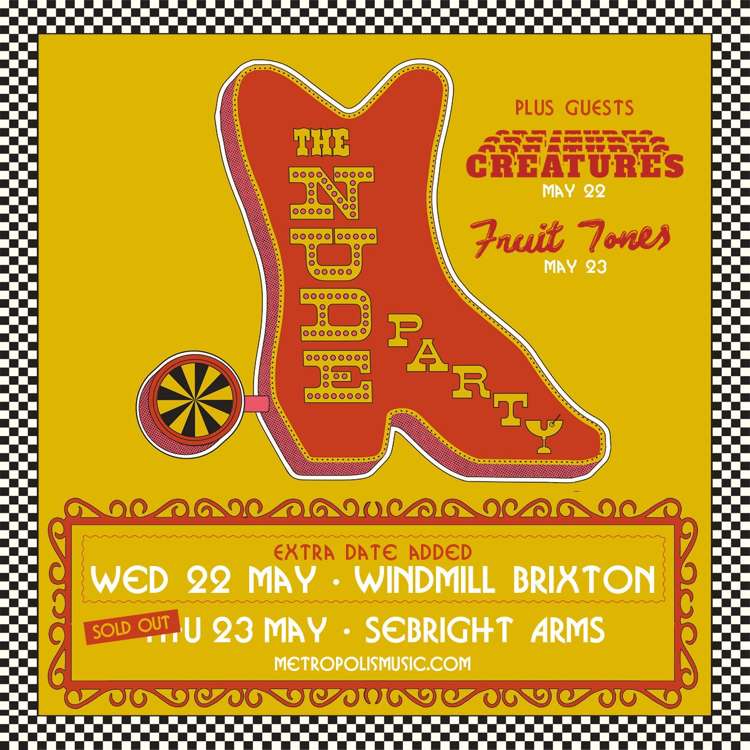 THE NUDE PARTY (Boone, NC)
The members of The Nude Party first came together in the freshman dormitories of Boone, North Carolina's Appalachian State University in 2012. Patton Magee, and later Austin Brose, linked up with childhood friends Connor Mikita & Alec Castillo and step brothers Shaun Couture & Don Merrill. The following summer, the young men moved into a lake house outside of town to begin learning their respective instruments and jamming on rudimentary riffs. Friends came by the lake house to swim and party and soon there developed a group obsession with performing in the nude. They quickly gained a following as the house band at a notorious Boone party palace referred to as the 505 House, and the bare honesty of their performances was so contagious that their audience also started partying au naturel. While these traditions may appear risqué to the casual observer, the band explains, "These weren't orgies, they weren't sexual even. It was just kind of a wild exhibitionism that we felt gave us freedom." Best known around campus as "the naked party band," this informal aggregation of musicians became a defined unit and chose to call their group simply "The Nude Party."
Ironically, they began playing fully-clothed as soon as they were christened since their birthday suits were not welcomed in any decent live music establishment. They hit the national tour circuit and soon found a mentor in Black Lips' drummer, Oakley Munson. He produced their Hot Tub EP and in exchange for cheap rent and physical labor gave The Nude Party a new home deep in the Catskills Mountains. An isolated place to focus entirely on writing music and playing together, and the culmination of six years of experimentation and refinement of material, resulted in the band's first full-length record released in 2018 by New West.
"This North Carolina group lives up to their cheeky name on their self-titled, bare-bones debut, a flapping-in-the-breeze album that evokes Nuggets garage rock and Out of Our Heads-era Stones. ...singer Patton Magee and his mates are kinetic, harnessing raw energy as only a gang of barely-twentysomethings can." -- Rolling Stone "10 New Albums To Stream Now"
https://www.thenudepartymusic.com/
https://www.facebook.com/tnpband/
https://thenudeparty.bandcamp.com
https://soundcloud.com/thenudeparty
CREATURES
Spaghetti Westerners inspired by modern pop muses, Creatures create a beginning, a middle and an end, sonically sending you on an adventure that spans intense landscapes, tear-jerking waltzes, foreboding chaos and lingering cliff hangers.
Childhood friends, the band formed when two members met years later by chance in Paris. Shortly after deciding to relocate to London to find the fellow members, the band have been writing and performing since 2016. After previously touring with Temples (Heavenly), Creatures continue their impressive live streak embarking on a UK tour with The Parrots (Heavenly / Burger Records) late last year.
"The band channel their best Roy Orbison at Club Tropicana vibes - throwing things knowingly back several decades to a time when the grooves were smooth, and the entertainment delivered with a cheeky wink. Basically, instead of aiming for the futuristic cosmos, they're jumping in the time machine back to somewhere far more chintzy." - DIY
https://www.facebook.com/creaturesofficial/
Source: Windmill Brixton website