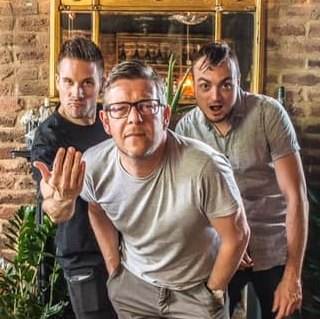 Saturday nights will never be the same again! DON'T MISS THIS LINE UP! ONLY £5 OTD
⚜London's Second-line Sensation! ⚜WHO DAT?
The Old Jelly Rollers are a musical collective who encompass the raucous, joyful spirit of the birthplace of jazz. They are bound to get your feet shuffling with their full 7 piece line up of some of London's finest young musicians.
The band is lead by Louise Balkwill, an up-and-coming songstress named by multi-award winning singer Liane Carroll as a singer to listen out for.
Come and move to the beat of the streets of New Orleans!
Splitworms
Raucous hot bother generated by drums, guitar, bass and lungs.
Pushing back against the notion of absolutes and a one size fits all miracle cure. Splitworms celebrate idiosyncrasies whilst simply relating their experience of being alive in the great acceleration.
Jon Moore - Drums, Charles Lake - Bass, Barry Straight - Guitar + Vox
Eastwards Eye
Alternative psychedelic Band formed in East Sussex UK

Inspirations: Syd Barrett, Kevin Ayers, Brian Jonestown Massacre, Daniel Johnston, Velvet Underground, Soft Machine, Pink Floyd and many more.
Dukkha
Dukkha was created by J. E. Hailey and LBS  in the  spring of 2017.  Hailey and LBS had become tired of the  constraints of the contemporary art world so constructed their own events for creators to show work without limitation .  All of the work featured at the shows portrays Dukkha, the Buddhist philosophical belief.   
Dukkha is a live immersive event which features performance, expanded cinema, moving image and still works. All are welcome to come and experience Dukkha. 
Manaking
Dark yet catchy genre blending crossover rock/rap avant-garde with a theatrical twist.
Avant-garde Self taught art/music for my own personal therapy. create/wrIte/play/perForm all mY own material. free Artistic liCence & no boundARiEs
Source: The Fiddler's Elbow website