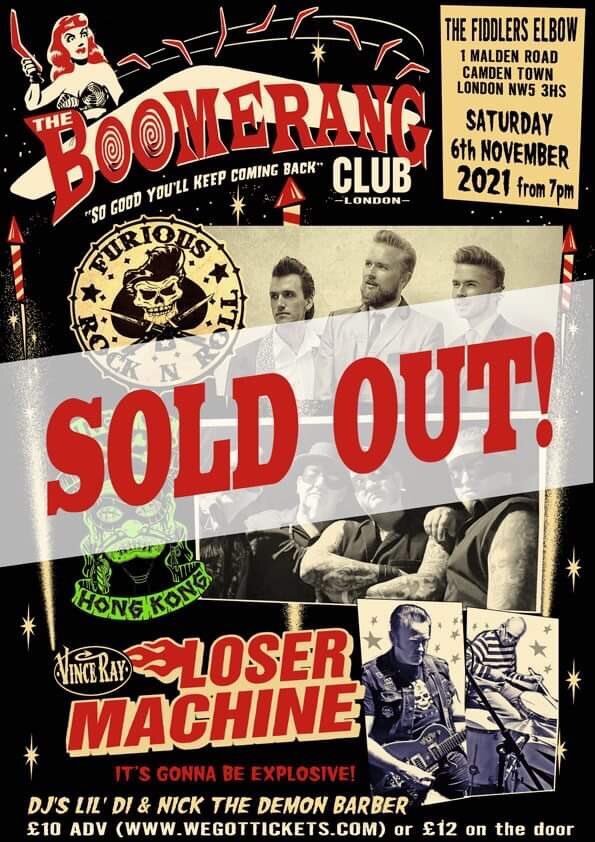 The Boomerang Club London presents an explosive night of Rock 'n' Roll for you! ...3 awesome bands and 2 fantastic D.J's to keep you dancing until the early hours.. DON'T MISS THIS ONE FOLKS!!
ONLY 26 advanced tickets left!
Furious, Kings of Hong Kong, Vince Ray's Loser Machine with D.J's Lil' Di and Nick The Demon Barber
FURIOUS - ONLY LONDON SHOW IN 2021!!
Ruthless, gritty and hellbent Rock 'n' Roll from the streets of Liverpool! With a relentless touring schedule, FURIOUS have been cemented as one of the hardest working & wildest live acts around. Their appeal crosses so many borders and with their self penned songs about teenage life today, they are turning the world's kids onto a wild Rock 'n' Roll beat.
They have played countless gigs abroad, all over the world touring with the likes of Glen Matlock of The Sex Pistols, Slim Jim Phantom, UB40 and they've even had a beer named after them! This is the real roots of Rock 'n' Roll, so prepare yourself, Furious ain't for the faint hearted! - MOJO Magazine.
https://youtu.be/ncSgtu56GmE
KINGS of HONG KONG - EXCLUSIVE LONDON SHOW 2021!!
These 4 masked crusaders will bringing to you their unique Rock n Rolla Trash sounds as they are the merchants from hell!!! They have brought out fantastic recording on Trashwax Records so expect a high octane performance
https://youtu.be/q7ksy35Tf9U
VINCE RAY'S LOSER MACHINE -
Lighting the fuse on this Boomin' marvelous night is Vince Ray's Loser Machine a duo whose twang-tastic sounds will blow your socks right off!!
https://youtu.be/rkX6ONjn6Bo
Looking forward to seeing you all there - Dave Diamond and Boom Cane
Source: The Fiddler's Elbow website